UWPD Investigating String of Campus Burglaries
Description
UW-Madison Campus Community,
The UW-Madison Police Department is investigating a string of burglaries on the UW-Madison campus that have occurred over the last two weeks. In each of the cases, the suspect has stolen electronics and credit cards from unlocked offices – in both administrative and academic buildings.
Through surveillance, UWPD has identified one of the suspects as Malcolm C. Owens, 19, of Madison. His photo is below.
Owens currently has a warrant issued by the Department of Corrections for violating his probation on a previous burglary case. If you see Owens, you should not approach him – please call 911 immediately.
UWPD is also seeking another man as a person of interest in the burglary cases. His identity is unknown, but a photo is below: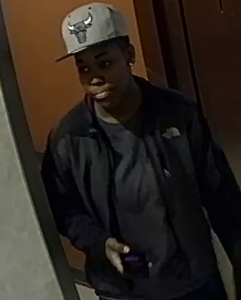 If you have any information about these cases, or the suspects involved, please call the UW-Madison Police Department at (608) 264-2677. If you see the suspects, call 911.
Property crime can often be prevented by taking some simple steps to ensure your belongings are secure. Please consider the following:
Be sure to lock your office when you leave – even if you're gone for a few minutes.
Keep your possessions in sight at all times. Don't leave books or backpacks unattended anywhere — it only takes a matter of seconds for things to be stolen.
Never leave a wallet or purse on top of your desk — take it with you or lock it in a drawer.
Mark your property and record serial numbers of expensive electronics.
Burglars frequently target cash, laptops, phones, bikes, jewelry, etc. Don't leave attractive items out in plain sight. If possible, store them in a locked drawer, closet or interior room. Or try to take small valuables with when you leave.
See uwpd.wisc.edu/crime-data/clery-act/ for more information about Clery Act implementation at UW-Madison. For a list of frequently asked questions about Crime Warnings, click here.