After 10+ years of service, K9 Casey Retires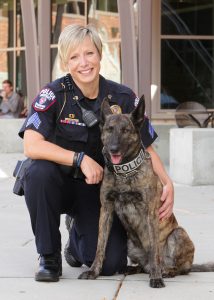 Today is bittersweet — as we honor and give our best to one of the hardest workers at UWPD.
After 10+ years of service to the campus community, K9 Casey retires today. Casey now becomes just a regular ol' (but very well trained!) dog at the Caradine household.
Casey is our narcotics dog, and she's a rockstar. She's been on countless calls and has met thousands and thousands of people. She has attained level III tactical obedience, which involves obedience around gunfire and other highly stressful situations. K9 Casey and Lt. Caradine would attempt level IV, but they need a helicopter to jump from to achieve that title!
Lt. Caradine affectionately refers to K9 Casey as "the number one dog in the state" — and while that title doesn't really exist, we think it's appropriate for her.
Special thanks to Spartan Animal Hospital for years and years of incredible care — they have done so much for Casey over the years, and Lt. Cardine can't thank you enough.
Enjoy retirement, Casey — and THANK YOU!