Assistant Chief Brian Bridges Retires
After more than 32 years of service to the UW-Madison community, Assistant Chief Brian Bridges is hanging up his badge. Wednesday, March 1 is his final day at the UW-Madison Police Department.
Video: AC Bridges Shares Memories >>
Asst. Chief Bridges was hired in July of 1984 – at a time when there was very little technology (at least as we know it today) at the police department. Reports were done by hand, all phones had cords, and our primary method of communication was by radio.
Three decades is a long time in law enforcement – and Bridges credits a number of mentors to his success at UWPD. "Starting in Washburn County in the late 1970s, and then at UW-Eau Claire, and finally here at UW-Madison," Bridges said. "In 1993, Chief Riseling was willing to give me a chance with a promotion to sergeant. She was supportive, encouraging, and once in a while gave me the push that I needed."
Bridges moved his way through the ranks at UWPD, and was eventually named assistant chief in 2010. In 2016, Bridges was named interim chief, following the retirement of long-time chief Susan Riseling. He returned to his role as assistant chief in January 2017 when Kristen Roman joined UWPD as chief.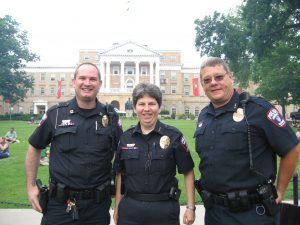 Law enforcement runs in the family – Asst. Chief Bridges' son, Ryan, is also a police officer at UWPD. He was sworn in, with dad by his side, in August 2014.
Asst. Chief Bridges says while he has been involved in every major project that UWPD has taken on in the last 20 years, he is most proud of the work the department has done with our campus partners to keep our community safe. "I'm also very proud of the tiny piece that I have played in hiring, developing, and watching our staff grow," Bridges said.
When asked what he'll miss the most, Chief Bridges replied, "That's easy — the great people of UWPD and the university."