Safe Biking on Campus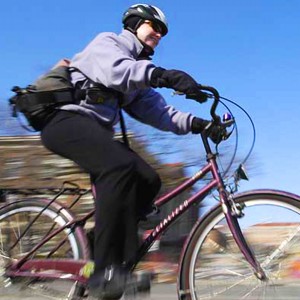 With the start of spring on the UW-Madison campus, we are seeing an increase in bicycle-related accidents. Some of these accidents involve bicyclist colliding with other bicyclists, motor vehicles, and pedestrians.
We receive daily complaints of bicyclists not stopping at stop signs, not yielding to pedestrians, and riding their bicycles on the sidewalks around campus. As a bicyclist, you are required by state law to follow the same rules of the road as a motor vehicle. These laws include:
Operators of bicycles are required to follow the laws regarding traffic control signals (including stop signs/signals).
When bicyclists are allowed to ride on sidewalks (due to no bicycle lane present), they must yield to pedestrians and give audible warning of their passing.
Bicyclists must follow all directions of travel for bicycle lanes when they are posted for one-way travel.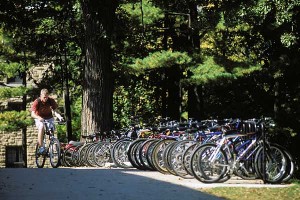 UWPD Community Officers will be conducting bicycle education and enforcement at various intersections and sidewalks around campus throughout the months of April and May. If you have any areas of concern, please contact your community officer with information so education and enforcement can be done in the area of concern.
Please remember these four important safety tips:
Act like a vehicle — obey all traffic control signals including stop signs.
Protect your bike — register your bike, park appropriately, and lock your bike when unattended.
Personal safety equipment — always use a helmet and lights
Have fun, but be safe.