Safety as Summer Approaches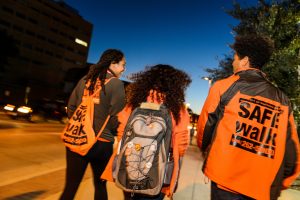 As warmer weather is here and the school season comes to an end, the UW-Madison Police Department continues to urge the campus community to take their personal safety seriously. The best advice I can give to you is to protect yourself, your friends, and your homes.
Some simple practices can bring this to fruition. These include:
Don't endlessly stare at your phone!

Think about it: a person, walking by themselves with ear-buds, staring down into the glaring screen of a phone. To any would-be criminal, this screams, "I am oblivious to what is going on around me!" It also identifies you as a target, with a $500 payday right in your hand.
Especially at night — if you need to text, do it, then put your phone in your purse or pocket. Pay attention to what is happening around you. If you can see people around you, you can prepare for whatever action they may take.

Don't over-consume alcohol — and watch out for each other

It's no secret – some students (both over and under 21) will drink this year. Whether you are one of those students or not, remember this: if you are intoxicated and by yourself, you could become a target.
If you choose to consume alcohol, do so responsibly. Use good judgment and common sense. Remember — if you have been drinking and are in need of emergency assistance, CALL US. Review the UW's Responsible Action Guidelines here.
Watch out for your friends! If they've had too much, step in and take control — cut them off and take them home. If they need medical assistance, call 911.

Travel in groups when walking at night

The adage, "strength in numbers" generally rings true. People in groups are victimized far less often than those who walk alone.
Use SAFEwalk — a free campus service that provides trained, two-person walking escorts throughout the main campus between 8 p.m. and 2 a.m. Just call or text (608) 262-5000 to request your escort.
Don't let random people into your building.
Thieves rely on unsuspecting people to let them slide. Truth be told, this often happens – I've seen people hold doors for people they don't know in most of the "secure buildings" on campus. Once inside the building, they can get almost anywhere and into any open dorm room.

Know and secure your property

I can only enter your property as stolen in the National Crime Database if YOU know the item's serial number.
Send yourself an e-mail with the serial numbers of all of your property (computer, phone, bike, etc.) and save it in your e-mail account. That way it's always accessible and unable to be lost.
If you're going to leave something unattended, LOCK IT UP! Thieves are opportunistic — they hunt for easy targets. This generally translates to taking the unsecured property over what is otherwise locked up. Locking up your property or closing your door when leaving can lead to your property being passed over by the would-be thief.

There's an app for that!

One of the best ways to recover a lost or stolen phone is with a tracking app. Even if it's not stolen, it can still be useful.
There are also apps for wiping your phone's stored data. Remember: your e-mail access and credit card numbers may be saved on your phone. Don't let a thief steal that too!
Backup your data. Either sign-up for an online service or buy an external hard drive. Your computer can run a backup in the background during any normal lecture and save you from losing months-worth of work if it's later lost or stolen.
Many of these points may sound like common sense — but you would be surprised at how many people do not take some of these simple steps to keep themselves and their property safe. While I and the rest of the UW-Madison Police Department are here to protect you and the campus community, we can't be everywhere at once. The first, best defender of you and your property is YOU.
Have a safe remainder of the school year — and good luck on finals!