UWPD and Trek Promote "Being Bright" at Night
On Thursday, September 2, the UW-Madison Police Department hosted "Be Bright" — an enforcement campaign aimed at educating students about bike laws, specifically the required use of bike lights after dark.
During the nighttime event, UWPD officers stopped numerous cyclists without proper lights. Bicyclists were not only surprised to be stopped by police officers, but were equally as surprised not to receive a citation. While the officer educated the individual about the laws, a volunteer installed the light set on their bike — at no cost to them.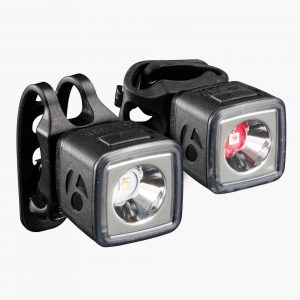 This year, UWPD partnered with Trek Bicycles, which donated Bontrager Ion 100 R and Flare R City rechargeable bike lights for the enforcement event. Trek representatives were also on hand to help install the lights and educate riders about safe biking. Trek and UWPD share the same interest in rider safety, which is what makes this partnership so cohesive.
The bike lights, donated by Trek, are unique — they're not only visible at night, but also during the day when most accidents happen.  Research has shown that "always on" daytime running lights is one of the best things a rider can use to make sure they are seen on roadways.  This is already a common practice for cars and motorcycles, and has been proven to decrease crashes and make cyclists more visible.
Thursday's enforcement initiative was the second time this semester UWPD and Trek worked together to keep campus bikers safer at night.
Wisconsin State Statutes require that bikers have appropriate lighting when biking at night.  By law in Wisconsin, a bike needs a white front light visible a least 500 feet away, and a red rear reflector visible to others between 50 and 500 feet away.
Read more about Wisconsin bike laws  >>
A huge thanks to Trek for their partnership and contribution to the event!