UWPD Conducts Pedestrian Education & Enforcement Campaign
During the week of April 13th, the UW-Madison Police Department began a weeks-long campaign aimed at improving pedestrian safety on the UW-Madison campus.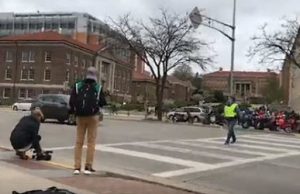 The effort started with education and warnings. Motorists who failed to yield to pedestrians at several pedestrian crossings on campus were stopped and educated. For the most part, verbal warnings were issued. The goal was simple: changing motorist behavior and getting motorists to pay more attention to the road. UWPD picked several crosswalks on campus that are used heavily. Many times during the initiative, pedestrians stopped our officers to thank them for the enforcement. According to many, it's very difficult — and often scary — to legally and safely cross certain streets.
The enforcement effort shouldn't have been a surprise to motorists — we worked to get the word out about our efforts. UWPD used social media, signboards, and traditional media to inform motorists about the special enforcement that was happening — even the locations. We also utilized Facebook Live and Twitter Live to show our efforts and answer questions regarding various pedestrian laws. The campaign was well-timed, considering the countless end-of-the-year events on campus.
After two weeks of issuing warnings to motorists, officers began issuing citations.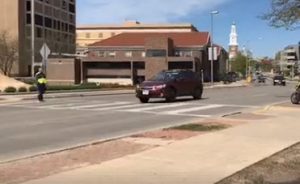 Overall, UWPD conducted 102 traffic stops, issuing 33 citations for motorists failing to yield to pedestrians. Two citations were issued for unnecessary use of horn (yes, that's a real thing!).
UWPD plans to conduct an additional education/enforcement period when students return for the fall semester.