UWPD Searching for Pickpocket Suspect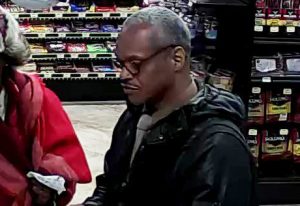 The UW-Madison Police Department is seeking the public's help in locating a person of interest in a theft/pickpocket case.
On November 26, during the Badger Football game vs. Minnesota, UWPD was contacted by a fan who believed he was pickpocketed sometime during the game, while on a concession stand run. He noticed his wallet was missing from his pocket, and he immediately contacted police. Shortly after the theft, the victim's credit card was used at a local mall.
Through surveillance footage at Camp Randall, UWPD launched an investigation to try and identify a suspect – UWPD investigators turned to law enforcement agencies statewide to develop a number of leads. Those leads, however, were unsuccessful. Now, we're hoping the public might have information about this individual that could lead to an arrest.
The suspect pictured is described as a black male with very short gray hair, 5'10" tall, 50-60 years old, and wearing glasses. Also pictured is the vehicle the suspect was believed to be driving the day of the theft. It's a 2006-2016 black four-door Jeep Wrangler Sport.
Anyone with information about the suspect or the crime is asked to call the UW-Madison Police Department at (608) 264-2677.
---