K9 Odin & Lt. Brent Plisch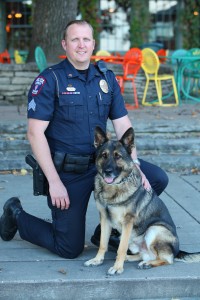 K9 Odin, a German Shepherd, was born in the Czech Republic in 2008. He was acquired by the UWPD in 2010 and is partnered with Lt. Brent Plisch. K9 Odin received his initial training at Tarheel K9 Inc., in Sanford, NC, and is trained in explosive detection and human tracking. He loved working large events and venues where he could run freely while working. K9 Odin was sometimes referred to as a "bull in a China shop" and took on several of his handler's characteristics while working.
Odin passed away peacefully on October 3, 2017, following a short battle with cancer. He was surrounded by his family when he passed and received full honors from his UWPD family and first responders across the area. Odin was nine years old.