April 11-15: Tornado & Severe Weather Awareness Week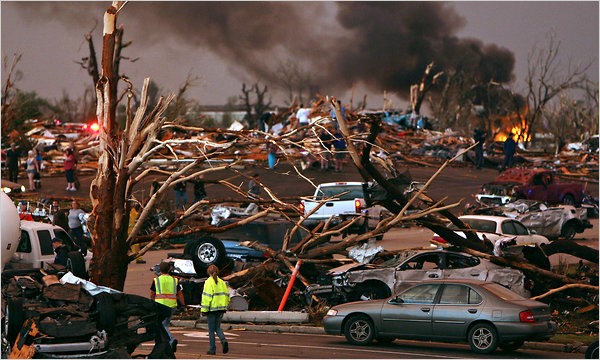 April 11-15th, 2016 is Tornado and Severe Weather Awareness Week in Wisconsin. Two statewide tornado drills will be held on Thursday, April 14, beginning with a statewide mock tornado watch at 1:00 p.m. The National Weather Service will then announce a mock tornado warning at 1:45 p.m., and will end at approximately 2:00 p.m.
The second tornado warning will be issued at 6:55 p.m. to give families and businesses a chance to test their severe weather plans.  In the event there is severe weather reported anywhere in the state, the drill will be postponed until Friday, April 15.
The drill will be a true, end-to-end test involving interruption of broadcast radio, TV, and cable stations. The drill will also include tone-alerting of the test watch and warning on NOAA Weather Radios (also known as Emergency Weather Radios). The tornado warning at 1:45 p.m. will last about one minute on radio and TV stations across Wisconsin. When it is done, stations will return to normal programming. Television viewers and radio station and emergency radio listeners will hear a message indicating that "this is a test."
---
Key Terms:
A tornado watch is defined as conditions are right for a tornado to develop. Continue with normal activities, but closely monitor the situation.
A tornado warning is defined as radar or weather spotters have identified a tornado. The emergency sirens will sound a steady tone for three minutes or longer if there is danger in the immediate area.
---
This campaign is to remind people of the dangers of severe weather and encourage citizens to take protective safety measures such as developing a personal preparedness plan and maintaining a disaster supply kit. If you work on campus, you should review your building's internal emergency communication procedures (located in your Occupant Emergency Plan) and the evacuation and shelter maps posted in your building to refresh your memory of where to go during a severe weather emergency.
If you are not familiar with your surroundings during a severe weather incident, seek immediate shelter in a basement or below ground evacuation location. Interior hallways or lower floors of multi-level buildings are safe locations to shelter in place as well. Do not open windows, and avoid rooms/areas with exterior walls and windows. If you are in your vehicle during a severe weather emergency you should seek immediate shelter in a nearby building. If there are no nearby buildings, seek out a ditch or ravine, and lay face down with your hands covering your head.
If you would like additional information please contact the UW-Madison Police Emergency Management Unit or visit Wisconsin Emergency Management's "Ready Wisconsin" website
Note to campus building managers: If you conduct a tornado drill, please send an email to emergencymgt@mhub.uwpd.wisc.edu with the building the drill was held at, the date it was held, estimated time to evacuate all individuals to shelter locations, and the estimated number of individuals that participated.
---
FREQUENTLY ASKED QUESTIONS ABOUT SEVERE WEATHER/TORNADO DRILLS
How does the National Weather Service deliver these tornado tests and real tornado watches and warnings?
They use a notification program called the Emergency Alert System, or EAS.
What is the Emergency Alert System?
EAS is a national public alert and warning system that enables the President of the United States to address the American public during extreme emergencies.  Alerting authorities like the National Weather Service can also use the state and local EAS to send alerts and warnings to radio and television stations, cable television, and NOAA weather radios (also known as emergency weather radios).
Why do these tests?
The National Weather Service, Wisconsin Emergency Management, and the Wisconsin Broadcasters Association believe it is important to allow the public to test their NOAA weather radio receivers which can only be activated using a real tornado warning code. The code also triggers the alert to air on most broadcast radio, TV and cable stations. The goal of any drill is to test all electronic systems that alert Wisconsin citizens to impending severe weather that can result in the loss of life and property. 
What can I expect to hear/see?
The tests may look like a regular EAS test that most people are already familiar with, but there will be some differences in what viewers will see and hear.  The audio message will repeat "This is a test."  The video message scroll may not include "This is a test" due to programming limitations.  The message will last approximately one minute and then regular programming will resume.
Where will I hear/see the tests?
On all participating radio, television, cable providers (who are called EAS participants), and NOAA weather radios.
What else might happen?
Many communities will activate their outdoor warning sirens for the tests at 1:45 pm and 6:45 pm.
What would cause the tests to be postponed or cancelled?
The tornado drills will take place even if the sky is cloudy, dark and/or rainy, and event non-severe thunderstorms.  We realize a cloudy, dark sky with rain may look threatening to some people.  However, this is not a hazardous situation that results in direct loss of life and/or property.
If actual severe storms are expected anywhere in Wisconsin on Thursday, April 14, the tornado drills will be postponed until Friday, April 15 at the same times.  If severe storms are possible Friday, the drills will be cancelled.  Severe weather is defined as tornadoes, damaging thunderstorm wind gusts of 58 mph or more, or large hail 1 inch in diameter or larger.  Any changes will be issued to local media as well as posted on the ReadyWisconsin website.  Updates will also be posted on Facebook, Twitter, and Instagram.
Are any other states participating in this test?
Yes, the drills will also occur at the same time in Minnesota and will be broadcast on radio and TV stations there as well.
Will the Wireless Emergency Alert (WEA) be activated in my cell phone?
No, the drills will not activate an emergency notification on your cell phone.  However, during actual tornado warnings, your phone will alert you to the danger in your area.
Source: Wisconsin Emergency Management