Statement from Chief Riseling Regarding Graffiti Arrest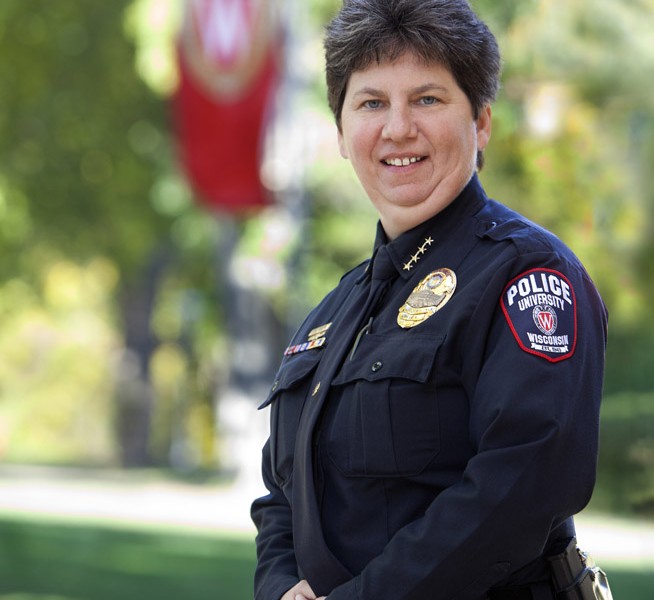 On Thursday, April 14, 2016, a UW-Madison Police Officer entered a campus auditorium to locate and speak with an individual believed to be responsible for 11 instances of vandalism on the UW-Madison campus over the last six months. UWPD police officers had been attempting to contact the student for the last two weeks for questioning – knocks on doors and phone calls went unanswered.
The officer scanned the room before entering. He observed a group of people sitting and talking amongst themselves. The officer did not see anyone standing at the front of the room or lecturing – the officer mistakenly believed the class had not yet started. The officer entered the classroom, located the student, and asked to speak with him in the hallway.  It was at this time the assistant professor identified herself to officers.
UWPD officers visiting campus classrooms for police investigations is not a common occurrence. Typically this happens after officers have used several other means to contact an individual they need to speak with. In the unusual instance when these classroom contacts need to happen, unless it is an urgent safety issue, it's our normal procedure to wait until the end of class to visit with the student. It's our goal to minimize disruptions and to not interfere with our campus' learning environment.
Because of the officer's error in believing the class had not yet started, I extend my sincerest apologies to the students and the professor who were in this class and witnessed this interruption. We are initiating a review of our officer's action entering the classroom, and department procedures related to classroom contacts, consistent with our commitment to the academic mission of the university.
In the interest of transparency and public understanding of this incident, UWPD will be releasing all body camera video and external surveillance video associated with this contact as soon as possible.
Questions have been raised about this crime and whether the content of the vandalism influenced the police response. Graffiti is criminal vandalism and we act on these crimes regardless of the content. With every report we receive, we thoroughly investigate, work to identify individuals who were involved, and when appropriate, take action to hold the individuals responsible for their criminal action(s).

Susan Riseling
Chief, UW-Madison Police Department
---
For more background on the graffiti and the charges against the student, please read more in our April 14 release.