Tools You Can Use: Staying Safe on Campus
---
10/8/14 Editor's Note: After getting feedback from a number of individuals, the UW-Madison Police Department immediately (yesterday) made edits to this article, which talks about general crime safety on campus. We realized some wording should have been phrased better and in a more sensitive nature. For that, we apologize.
We also want to point out that this is an article about general crime prevention on our campus — the intent of this article is not, and never has been, specifically about the prevention of sexual assault. Many have taken this article out of context. We understand the vast majority of sexual assaults are committed by acquaintances of the survivor. This article speaks solely to crimes commonly committed by strangers. In the future, we'll do a better job of ensuring that the intent and focus of the article are more clear.
It is NEVER a victim's fault if they find themselves targeted in any crime. Ever. The tips below are great tools for our students, faculty, and staff to have in their "safety tool belt." They are not failsafe or guaranteed — but merely tools to use to help with personal safety.
For more information about the great programs on our campus regarding sexual assault, and resources for sexual assault survivors, please see the following links:
EVOC (End Violence on Campus)  >>
UHS (University Health Services  >>
Dane County Rape Crisis Center  >>
UWPD "You Can Tell Us"  >>
---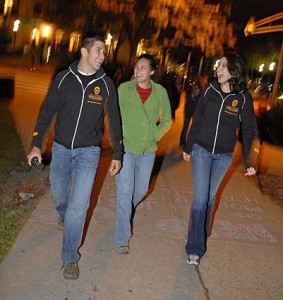 It's October already, and most of you are starting to get into some semblance of a routine here on campus. Now is the time when all of those pieces start to come together and you finally feel a sense of belonging and routine. As students and staff of the university, all of us play a vital role in making day to day life on campus interesting and fulfilling.
With the university located at the heart of Madison, we are offered a slew of activities and diverse communities to satisfy any interest. Unfortunately, city life has its own perils. Though crime in the city of Madison pales in comparison to others like Chicago, Milwaukee, or Boston, we certainly have our fair share of incidents.
The UW-Madison Police Department conducts intensive patrols throughout campus with the goal of protecting our students and staff from suffering as a victim of crime. However, police can't be everywhere. Each of us must take a hard line when it comes to ensuring our own safety. The following are some simple tips to help develop a proper mindset:
Don't travel alone – it's always a good idea to utilize the buddy system whenever you go out, but especially at night. It is no secret that a higher proportion of crimes against person or property occur at night. The ability for a criminal to hide their intentions under the cover of darkness is too big of an opportunity for them to pass up. By traveling with a trusted friend, you make yourselves a less desirable target.
Travel on well-lit paths – for the same reasons you should travel in groups at night, it is also important to follow the beaten path. In most cases, the beaten path is the brightest path as well. Stay in the light and you rob a would-be criminal of at least one advantage: concealment.
Preplan – know the route to and from your destination. Be familiar with it, and have an alternate route in case of any unforeseen changes. It is a good idea to see the route during the day, and take note of the presence of lighting for travel at night.
Be a hard target – if you move from one destination to another, and the only thing you recall about the trip is the last text message you received, then there's a problem. These days, too many people are busy buried in their cell phones and pay little or no attention to their surroundings.
Drink responsibly – everyone wants to have a good time and alcohol is sure to be a part of that (if you're over 21, of course). Know your limits and those of your friends. Don't be afraid to tell someone "enough is enough." Have a plan: where are we going to stay? How are we going to get there? Over-consumption of alcohol will quickly make you an easy target.
Also, take note of the following resources available to get home safe:
SAFEwalk: 262-5000, provide walking escorts.
Madtown Hopper: 906-5556, free rides in the downtown, isthmus, and campus areas
Trust your instincts. If it doesn't feel right, it probably isn't. Be flexible and proactive in your safety. It is an unfortunate fact of life that crime will occur. None of us are immune to the possibility of becoming a victim. The simple truth is, it can happen to any one of us. The attitude of "it can't happen to me" is the wrong attitude to have. The right attitude is "I won't let it happen to me!"