UWPD's Bait Bike Program Making a Difference on Campus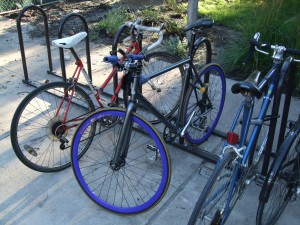 Since 2008, the UW-Madison Police Department has been considered a leader, nationwide, in the use "bait bikes" – bicycles that are equipped with GPS technology, making them trackable in near real-time when stolen. That first year our bait bikes were deployed, we saw a 40% drop in bike thefts.
Here's how it works: when a bait bike leaves a pre-defined GPS perimeter, UWPD officers are notified via cell phone and are then able to track the bike, ultimately leading to an arrest. In the past, we've averaged one bait bike theft and arrest per week – we hope newer, improved technology will increase arrests and deter thieves.
So far this year, UWPD has taken 42 bike theft reports on campus – that's compared to 61 at this time last year. The most active site for bike thefts this year is Union South, followed by the Memorial Union. Last year, the Memorial Union was the top spot for bike thefts.
The biggest problem we have is that students need to do a better job of locking their bikes up. Cable locks are nearly worthless, and can be cut very easily. UWPD recommend using a high-quality U-lock, and securing the lock to the frame of the bike – not the tires.
UW-Madison Police believes a more aggressive, active campaign this year has brought numbers down, and led to more citations. This year, UWPD has cited 11 people for bike theft, compared to just five last year.
In addition to the use of bait bikes, officers are also reaching out to students – being proactive to prevent them from becoming victims. "This Could Be a Bait Bike" stickers were distributed to all students, and are available on campus-area bike paths and at UWPD headquarters on Monroe Street. Students are encouraged to affix the stickers to their bikes as another way to deter theft, and spread the word that UWPD officers are actively and aggressively investigating bike thefts, and making arrests.