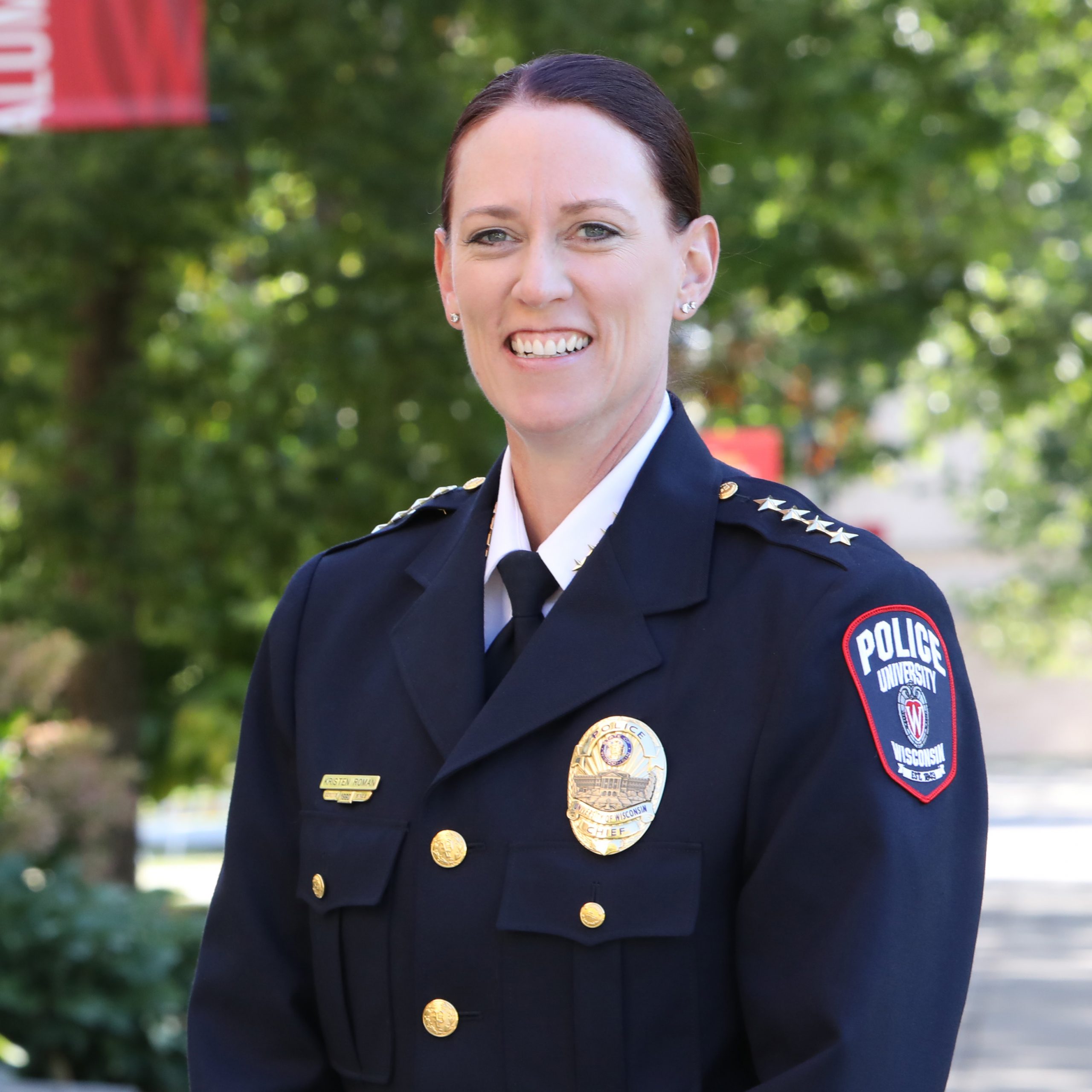 UW-Madison Police Department Chief Kristen Roman shares her thoughts and views on various police-related topics — covering topics that are relevant here on campus and across the country.
Have feedback or care to comment? Send us an email us. Be sure to include your contact information so we can reach back out, if necessary.
---
Setting the Record Straight
September 22, 2020
With each start of a new academic year, I take the opportunity through my Chief's Corner blog to welcome our newest students and share relevant information about our department. Of course, this fall semester is like no other. Case in point: As I sit down to my computer I do so from my home office, which as per our campus requirement to telecommute whenever possible has served as my primary worksite in this COVID era. This is but one example of just how much has changed since this time last year.  
Upon reflection, I was prompted to scroll back through my previous fall blogs and in doing so, I was reminded of a blog post that I wrote a little over three years ago. In my post, titled "On the Side of Peace," I discussed the role of police to facilitate open debate and the free exchange of ideas. That topic remains relevant in light of current challenges, criticisms, and questions surrounding police response to protests in recent months, here and across the country. A timely excerpt reads: 
As your Chief, I understand the vital role that the UWPD plays in the facilitation of open debate and the free exchange of ideas. Indeed, I and all UWPD officers have sworn an oath to uphold these and other constitutional principles. Regardless of our personally held beliefs or opinions, as peacekeepers charged with the responsibility to safely facilitate expressions of the First Amendment, there is only one side on which police can and should choose to be: on the side of peace. 
This remains true today. Peaceful protests have been a part of our campus' history for decades. Indeed, we saw numerous peaceful protests this past spring following the death of George Floyd and again in the days and weeks following the shooting of Jacob Blake. And while the protests and demonstrations that have taken place over these past few months here in Madison have been overwhelmingly peaceful, at times they were not. A handful turned violent, resulting in widespread destruction and creating situations that jeopardized – and in some cases directly impacted – the physical safety of members of our community and our officers.  
 While most of these events unfolded just off-campus – within the jurisdiction of the City of Madison Police Department – our department (along with other police departments) responded upon request to assist MPD. Because so many of our students live in the State Street area and because it is so close to campus, we believed we had both a vested interest and a responsibility to work to mitigate the destruction that was taking place in order to keep our community safe. Even so, our campus suffered substantial damage during those first few nights of protest to include numerous broken windows, damage to a UWPD squad car, and graffiti across lower campus. In addition, a student was struck in the head and suffered a significant laceration requiring stitches after a protester threw a brick through the window of a residence on Langdon Street and one of our UWPD officers was treated for a concussion after he was struck in the head with a brick thrown by a protester.  For these reasons, the safety of our community – on and off campus – was a great concern. 
In recent weeks, the UWPD has received questions and feedback from members of our community pointing to recent articles and social media posts that discuss our department's role in the response to the unrest in downtown Madison over the last four months. Some of this discussion includes information that is not true or leaves out important details and context. Such distortion of fact serves only to further divide our community at a time that calls for us to come together in order to create meaningful change where needed. As such, I feel it's necessary to set the record straight. In the spirit of full transparency – something that's deeply rooted in our department's vision and philosophy – here are the facts: 
In the earliest days 

following

 the 

first 

protests, 

I 

went

 

on 

record to share with our community our involvement. 

We did not hide our presence in downtown Madison.

 

Our officers responded in their UWPD uniforms and in marked UWPD 

vehicles

. 

 
UWPD participated in a 

"mutual aid" capacity. Because of the level of unrest that had previously occurred, the City of Madison Police Department requested additional personnel from 

nearby law enforcement agencies

. 

 This was not a situation that called for the campus Protest Decision-Making Team. That team addresses on-campus protests, not off-campus emergency situations where immediate actions is required. 

Learn more about UW-Madison's Protest Guidelin

es and the PDT

 

here

.

 
While 

the majority of

 the protests were peaceful, there were times when the protests turned violent. In addition to explosives being 

hurled

, heavy projectiles – such as 

large rocks, bricks, and bottles – were thrown. 

In response, many officers

, 

UWPD 

includ

ed

, 

used 

pepper spray to 

mitigate the physical 

safety 

threat

.

 

 
UWPD 

officers never used 

foam/rubber bullets

 or 

tear gas

. 

UWPD 

did not 

supply 

MPD

 – or any responding agency – with pepper spray or other chemical agents.

 
Moreover, 

UWPD has never used tear gas or fired a less-lethal impact weapon

(like a foam bullet) in a crowd control situation

 for at least the past eight years

. 

UWPD officer

s

 ha

ve 

deployed pepper spray only 

nine

 

times in

 the past 

eight

 years. 

Three

 of these were during the night of May 30

th

 

as desc

ribed earlier. The other 

six

 incidents in which an officer deployed pepper spray

 occurred when persons whom the officers were attempting to lawfully detain or take into custody resisted. 

Only

 once in the last 

eight

years has a UWPD officer deployed a less-lethal beanbag round. This was in response to a suicidal subject who attempted to provoke the officers into using deadly force against them. Instead, the person was taken safely into custody.

 
UWPD has long been and remains committed to equity and transparency. In recent months, we have taken proactive steps to address community concerns in the aftermath of the killing of George Floyd. We have acknowledged that the history of policing is stained by its complicity in perpetuating racial injustice, and we have affirmed our commitment to action through our Racial Equity Initiative. We have pulled the curtain back to share information with our community regarding our core practices, policies, training, use of force, and more, and continue to invite questions, feedback, and opportunities to engage in constructive processes to identify, implement, and continually assess needed change.  
We are, indeed, living in unusual times. As we head further into this unprecedented fall semester, I want to welcome our newest students, and to encourage every member of our Badger community to be thoughtful in their approach to the difficult issues we are currently facing. The social contract between police and the communities they serve is under negotiation, locally and across the country. As such, we welcome the opportunity to work together to determine how UWPD can best serve the unique needs of our community. Just as our UW community is distinct from others, the UWPD is distinct from other police departments in many ways. Understanding these distinctions is essential to the work of creating desired change. We welcome the discussion and trust that our sifting and winnowing will lead us all to a better place. 
---
It's Never Too Late for Justice
June 22, 2020
"If we can look at ourselves closely, and honestly, I believe we will see that we all need justice. We all need mercy. And perhaps, we all need some measure of unmerited grace."
      – Bryan Stevenson
Many statements have been made and demands issued in the aftermath of the murder of George Floyd at the knee of a police officer, whose name I will not say because names hold power and I refuse to confer more power to one whose abuse of it betrayed not merely his badge but humanity. Out of the many statements and subsequent demands for police reform, a very clear message has emerged: Actions must speak louder than words.
The circumstances surrounding George Floyd's death are not unique. And while this truth is reason enough to rail against the injustices it illuminates, it also pushes us to explore what makes this moment in our country's history different. I started my career in policing in 1990 and less than one year later, Rodney King was brutally beaten by LAPD officers. I recall that as a new officer, I was shocked to see those officers swinging their batons repeatedly as Rodney King lay on the ground offering no resistance. Not only did the actions of those LAPD officers stand in stark contrast to all the training I had received around the use of force, they went against everything we had been taught in the academy about our role as guardians and peacemakers – that which called me and so many who wear the badge to serve. Thirty years later, history has repeated itself far too many times. Despite the unique span of the current movement for reform, its success in effecting real change will be dependent on one thing: Actions must speak louder than words.
I have come to understand that justice is not a "one-and-done" proposition. It's a purpose that is served, an ongoing process that continuously translates words into fair and just actions. As such, I believe it is never too late for justice. In that spirit, last week the UWPD announced our Racial Equity Initiative, a comprehensive action plan for engaging with the community to ensure the department's policies and practices are filtered through a racial equity lens across a number of core areas within our operations. Thoughtful and effective reform begins with first knowing and understanding present form, so if you have not already reviewed the website outlining our commitment to action, I strongly encourage you to do so.
So why are we doing this now? A fair question to be sure, given that the issues we are confronting across the country are not new. While UWPD has long been committed to fostering relationships and building community trust – efforts that are grounded in our core values and reflected in our policies, practices, and training – we have before us not only an opportunity to further engage, but unprecedented community momentum to work together toward meaningful and impactful change.
The vision for the Racial Equity Initiative is much more than a handful of adjustments to department policies and practices. For me, it's an exploration to create a comprehensive model alongside our community for what a racially just police department can and should look like. In doing so, I hope to reimagine the soul of our profession in the eyes of those we serve. I hope to reclaim what the Minneapolis police officer whose name I will not say and others like him have taken from me, police officers I have the privilege of leading at the UWPD, and communities across our country.
I understand that those who may question the timing of this initiative likely do so with a skepticism about whether or not our commitment to action is real. Is this a way of quieting things down until we can go back to business as usual? The answer is an unequivocal no. I agree with the message that actions must speak louder than words. But we can't do this alone. The success of this initiative is contingent on our collective willingness to engage in the in-depth conversations and difficult work needed to achieve progress. And this will require not only a shared commitment to justice, but a shared vision and constructive action to propel us forward.
We know that members of our community might have questions. As always, we are committed to transparency and providing you with the information you are seeking. We invite you to contact us with any questions, comments, or feedback.
---
Where Campus and City Meet
October 29, 2019
The UW–Madison Police Department (UWPD) has long partnered with the City of Madison Police Department (MPD) to address safety concerns that impact our campus community. I know this first-hand from my many years of service with MPD and in particular during my time there as a commander in the Central District. Since joining the UWPD, I have certainly gained new insights and a better understanding of the unique challenges that exist as we work to ensure safety for our students who live, work, and recreate just off-campus in the areas where campus and city meet. Today I'm pleased to share with you a new initiative we're starting in the downtown area.
I often receive questions from students and parents who are confused – understandably so – about where and why jurisdictional boundaries exist between the two police departments and how they impact police response and process. These challenges are not unique to UW–Madison as most campuses across the country are embedded within municipalities with separate police departments serving each. How best to address these challenges is unique to each campus and surrounding city.
Over the past few years, UWPD has worked to identify openings for greater visibility, engagement, and resource allocation in off-campus areas, to bolster collaboration with MPD where possible and to cultivate consistency in approach through several initiatives to include:
Off-Campus Alert program to provide emergency incident information to our off-campus communities above and beyond our standard, federally required WiscAlert system
Expanded 1st 45 Days Alcohol Education and Enforcement programming to include Langdon St. neighborhood
Working with MPD, City Attorney's Office, Mayor's Office, and City Municipal Court, to implement a pilot that would allow UWPD officers to issue select City Ordinance citations in off-campus areas
Increased UWPD staff engagement with off-campus student organizations – including the many service, social, religious, and housing locations on Langdon Street
Many of these initiatives are in response to feedback we have received from our campus community, and in particular from our students through a variety of surveys, including the University Health Services "The Color of Drinking Survey" and the Association of American Universities "Campus Climate Survey on Sexual Assault and Misconduct Report." We know our work is not – and will never be – done. We are committed to breaking down barriers, focusing on engagement and inclusion, and creating and strengthening relationships with stakeholders – regardless of campus borders and boundaries.
We recognize the need for specific, focused, and dedicated police personnel in campus-affiliated neighborhoods, and to this end we have been exploring for many months now the feasibility of creating a dedicated officer position to liaise with our students in the Langdon St., lower State St., and 600 University Ave. corridor. With MPD's recent announcement of the intended removal of their Langdon St. Neighborhood Officer, our efforts have now taken on the potential for even greater impact than we'd initially envisioned. And MPD's stated end date of February 2020 has certainly accelerated our timeline for development and implementation of this proposed position.
As such, I am excited to announce plans to create a UWPD Downtown Liaison Officer position to serve a geographic area consistent with our off campus alert area. This area is bordered by Lake Mendota, Lake Street, Gorham Street, and Wisconsin Ave. Similar to our other community officer positions, the UWPD Downtown Liaison Officer will work to engage with students and other campus partners, connect students with necessary resources, and provide a link between UWPD and MPD for police response in this area. While the primary jurisdiction and call-for-service response for these areas will remain with the City of Madison, the UWPD Downtown Liaison Officer will have the ability to exercise specific enforcement authority as appropriate but will primarily focus efforts on building relationships, providing advocacy, and serving as an additional resource dedicated to promoting safety in our off campus community.
The responsibilities, duties, and assignments of the new UWPD Downtown Liaison Officer position are still being developed and this is where we need your help! Over the next few months, we will be working with relevant campus stakeholders, student organizations, and municipal partners to further define this position and shape community expectations. More information about opportunities to provide feedback on this effort will be shared in the next few weeks. We look forward to the process and are excited about the positive impact we expect this position will have on all our students.
---
Forward Together
October 14, 2019
This past Saturday was the fourth consecutive home football game of the season. While we Badgers love our sports, what most don't know or see is the amount of work and resources that UWPD and others dedicate to ensuring that 80,000 fans who descend upon Camp Randall Stadium have a safe and fun game-day experience. The UWPD team diligently plans and prepares several days before each home football game and is hard at work hours before kickoff to establish traffic posts, conduct safety sweeps, brief the throngs of supporting officers from outside agencies, set up the arrest processing center, and much more. Here at the UWPD, game days require all hands on deck and working four consecutive weekends is demanding.  When I awoke this past Saturday morning, it felt a bit like the movie "Groundhog Day," in which Bill Murray lives the same day over and over again.
It is, for this reason, I posted a tweet and accompanying photo of a group of UWPD officers, myself included, standing atop Bascom Hill wearing sunglasses with our arms crossed. The tweet's message read, "It's Saturday. And you know what that means @UWMadisonPolice. Let's do this! #GameDay…again." The tweet was intended to be fun, to acknowledge the final leg in a long stretch of Saturday games, and generally motivate my UWPD team and all those who come together on game day. The photo included in the tweet is a screenshot excerpted from UWPD's recruitment video in which we humorously use the pose to actually debunk the stereotyped image of police as hyper-serious and unapproachable. The tone of the full video from which the photo was taken is light, but also emphasizes the seriousness of the work we do to keep every member of our community safe. We emphasize our commitments to respect, empathy and service, among other things. Despite that, shortly after posting the tweet it became clear to me how some could (and, in fact, did) receive the tweet negatively. In a subsequent tweet on Saturday afternoon, I apologized and explained it was not my intention to make anyone feel uncomfortable. I also provided a link to the full recruitment video from which the photo was derived in order to place it in the proper context.
Despite my intentions, I acknowledge and own the impact of my tweets on Saturday afternoon on some members of our community and reiterate my apology. As someone who has spent their entire career in this profession, I'm all too familiar with the strained trust communities of color, in particular, have when it comes to police. Along with the rest of the UWPD, I remain committed to continuing to build genuine and enduring trust across the community we serve.
In that spirit, I want to open the door for continued conversations that promote trust among all members of our community, including those who were negatively impacted by my tweets Saturday afternoon. It is clear that we have more work to do to close existing trust gaps as a department and a community. For any relationship to succeed requires a willingness to engage, to listen, and to move forward together. Whether we meet here at the PD, at a coffee shop or at a student group meeting, I want to hear your concerns and use them as a springboard for continued improvement. I also want you to have the opportunity to ask questions and learn firsthand about the philosophies that inform the incredible work done every day by the men and women of your UWPD.
If this is of interest, and I sincerely hope it is, please contact me at uwpdchief@wisc.edu or Dr. Louis Macias, UWPD's Executive Director of Recruitment, Diversity and Inclusion, at louis.macias@wisc.edu.
---
WwwELLcommmBAaaack!
(or, "Welcome Back" for those of you who don't speak whale)
September 3, 2019
"First day of school! First Day of school!"
   – Nemo
"Finding Nemo" is one of my all-time favorite movies. I have such warm memories of watching this movie snuggled up with my son on the sofa, or as back seat riders in our red Honda Odyssey embarking on a long family road trip. I love this movie not only because watching it again and again when my son was little meant precious time shared together, but because of the wonderful lessons in love, friendship, self-confidence, risk, courage, growing up, and letting go this amazing underwater journey imparts as well.
My son turned 18 this year, and like many of you arriving on campus for the first time, he is starting his own journey as a freshman in college this fall (not at UW, because why would you go to school where your mother is the Chief of Police?!). Heading into this fall season, I can't help but think of Nemo, his lucky fin, and his excitement about the adventures ahead. And as a parent, Marlin's narrative resonates more profoundly for me now than ever before. And so with this iconic movie as the backdrop, my message of welcome this fall is to all the Nemos and Marlins. I'll try to keep the metaphors to a minimum, but…
To all the Nemos: Welcome to this beautiful coral reef known as the UW-Madison! There's a lot to see and a lot to learn in this part of the ocean. We have many Mr. Rays, including me and the entire UWPD, here to facilitate your sifting and winnowing. Though, I would more lichen myself (yup – I threw in a pun just for the krill of it) to the maternalistic starfish, Peach, positioned strategically on the side of the tank to keep an eye on everyone inside and outside the glass walls. The UWPD team will help you navigate the waters, working hard – 24/7 – to protect you from all the Darlas out there. I'm sure my partners in Housing would appreciate it if I took a moment to remind you that you are not the only fish in this ocean, so please be considerate, like Jacques, and keep your tank clean. It's a big ocean and there's a reason and a place for every living thing in it. This means we take care of each other, we respect and value our differences, and if we see something we say something.  This is an exciting time in your lives, but sometimes it can be scary and difficult so it's ok if you "ink" every now and then. Help and support is all around you. Oh, and one more thing. Taking measured risks is often how we learn and grow. So challenge yourselves and each other. Go ahead and venture out to explore the drop-off. And when you're not sure what to do next, just keep swimming.
To all the Marlins: It's true – they grow up way too quickly. And oh my, this letting go is so much harder than we ever imagined it would be, right?! I'm with you. We've spent years doing our best to keep them safe, because we know all too well what dangers lurk out there, and it's always been our job to protect them. So here they are now, full of excitement and wonder swimming far away from the reef. Ruminating at 4:00 a.m., we worry about things like whether or not she will remember to brush against the anemone three times for best results; or that his "lucky fin" is a vulnerability that bigger fish may exploit. We start thinking that maybe a gap year should be mandatory, and caution our young clownfish not to cave to pier pressure (yup – I threw in a pun for the parents too) and swim past the drop-off. As a mother facing all these same worries, I certainly identify with the Marlins. But as Chief of Police, I'm your Dory (though rest assured my short-term memory is not nearly as compromised). Like Dory, I'm here to support all of you, and remind you that Nemo is more resilient and resourceful than you know. As Dory aptly noted, if we never let anything happen to them, nothing will ever happen to them. And there it is. The moral of the story. But easier said than done, which is where the UWPD comes in.
To both the Nemos and the Marlins: For the porpoise (another pun – I can't kelp myself) of this mega metaphoric movie missive, the UWPD is Crush, the hip but wise 150-year-old sea turtle. Like Crush, the UWPD has years of experience guiding young Nemos on their EAC journey. "Grab shell!" We've ridden this current many times, we understand the unique challenges and opportunities ahead, and yes, we even speak whale. Visible and engaged, the UWPD works closely with housing, student life, health services, and many others to educate, respond, and best serve all of you.
So come on in, the water's fine. Let's set a round trip course to P Sherman, 42 Wallaby Way, Sydney, and when we come to the dark trench together we'll remember to swim through it, not over it.
---
Recent Immigration and Customs Enforcement Activity
June 21, 2019
I recognize and understand that recent reports about increased Immigration and Customs Enforcement (ICE) activity nationwide have raised questions and concerns on campus and in our broader community.
The UW–Madison Police Department (UWPD) is committed to providing exceptional service to all members of our community regardless of immigration status. I want to reach out and share information about the policies and practices followed by our police department and the university generally:
UW-Madison will not provide information on the immigration status of its students, faculty or staff unless required to do so under force of law.
UWPD will not participate in immigration enforcement actions conducted by ICE. Our resources are limited and such enforcement is not part of UWPD's mission.
ICE officers must use appropriate legal processes if they are on campus and wish to contact individual students about enforcement-related issues. For example, they generally cannot enter an on-campus private residence without a proper warrant.
UWPD officers shall not detain or arrest an individual solely based on a suspected violation of immigration law and should not routinely inquire to an individual's immigration status. An individual's immigration status is immaterial to our mission and will only be relevant if the individual is involved in serious crimes. An individual's immigration status has no bearing on their ability to file a police report with UWPD.
I also want to make you aware of campus resources that may be helpful. Students may reach out to the Dean of Students Office, which provides assistance and support for the academic and non-academic success of DACA/undocumented students. For mental health support and assistance processing these events, students are encouraged to connect with University Health Services. For questions about international students or scholars, please contact International Student Services (ISS) or International Faculty and Staff Services (IFSS). If you or anyone you know has been affected by ICE, Dane County Immigration Affairs Specialist Fabiola Hamdan is an available resource and may be reached at (608) 242-6260.
---
Question: Guardians or Warriors? Answer: Yes.
May 7, 2019
On February 15, 2019 officers from the Aurora Police Department in Illinois responded to an active shooter incident at the Henry Pratt Company that left six people dead and six others injured, including five police officers. In the days and weeks that followed, my colleague and friend, Aurora Police Chief Kristen Ziman, spoke often about the importance of police training and stressed that officers, who spend most of their days as "guardians" of the public, must be able to "transform into warriors when the need arises." I often resist wading into the "police as guardians vs. police as warriors" professional debate. I find it to be at best a false dichotomy and at worst, a divisive argument that separates us from the complexity of our own humanity. That said, the video that flooded social media last week showing University of North Carolina police officers running toward the gunfire as students with hands held high were fleeing to safety arguably resembles images of warriors heading into battle.  The truth of the matter is that warriors are guardians and guardians are warriors. These mindsets are not mutually exclusive, in fact they are two sides of the same coin and their currency is safety. And as Chief Ziman noted, "Every day is uneventful until it's not." Then what?
It's the "then what" that necessarily drives the UW-Madison Police Department (UWPD) and police agencies on campuses, in cities, counties, and states across the country to plan, train, prepare and to serve.
In 2018, UWPD employees received a combined total of approximately 9,000 hours of training on topics including but not limited to community relations, emergency management, investigations, lake rescue and safety, leadership, ethics, mental health and wellness, sexual assault, defense and arrest tactics, firearms, professional communications, fair and impartial policing, bias awareness, digital forensics, crisis intervention, de-escalation, and of course, response to active killers. Safety is our trade and the preservation and restoration of peace is our true aim. Tragedies such as the shooting at UNC last week and far too many others like it understandably prompt heightened awareness and concern here at home, and in their aftermath, I often receive questions from many who seek reassurance about our own preparedness. So let me begin by making what I believe is an obvious statement, but one that perhaps, fortunately, most in our campus community take for granted until the uneventful becomes eventful: UWPD doesn't just focus on campus safety following a tragic incident that garners national attention. UWPD always focuses on safety – 24/7, 365 days a year – it's what we do and why we are here.
Safety takes many forms and can be ensured through various means. Safety can be the prevention of crime as well as the quick and capable response to crime. Safety is promoted through raising awareness, educating, and empowering our community, as well as through outreach and enforcement initiatives. Safety is experienced physically and mentally and UWPD is dedicated to holistically ensuring both. Most importantly, safety is a shared responsibility and no police department can be successful without the interest, feedback, involvement, and support of our community.
UWPD's commitment to collaborative approaches to ensuring safety is at the core of everything we do. To this end, we have worked this past academic year with a number of campus/community partners to address specific safety concerns and establish new safety measures:
In October, we worked with the City of Madison Police Department and students to expand UWPD emergency notifications to include off-campus alerts for our students who live in the Langdon St., lower State St., Gilman St., 600 University Ave. area.
Throughout the year, we worked with our campus partners who comprise our Threat Intervention Team as well as the Behavior Intervention Team to collaboratively identify, support, and mitigate various safety concerns and earlier this year we embarked on an initiative to improve classroom security with the installation of locking mechanisms in various classrooms across campus.
This past year we collaborated with campus partners such as the Division of Student Life, University Health Services, Housing, and others to reduce the number of students engaged in high-risk alcohol consumption and provided training to thousands of students and staff through our Active Threat/Killer classes.
Our UWPD Pride Team was hard at work this past year to address specific policy and training geared to increase safety and further build trust with our LGBTQ+ community.
Our Emergency Management unit worked across campus to coordinate active killer training, continuity of operations planning, and training exercises/scenarios to bolster our preparedness for critical incidents and emergencies.
As this semester comes to a close, we have developed a new and improved UWPD Citizen Academy and are in the process of establishing a UWPD Student Safety Council to engage students in ongoing safety efforts such as improved lighting, increased safe transportation options, WiscGuardian and WiscAlert education, blue light phones, and other issues.
These are just a few examples of the ways in which your UWPD is focused on campus and community safety. It has been said that fortune favors the prepared mind and while no police department can train for every single potential scenario, UWPD is committed to doing all that we can to best prepare for the possibility that the uneventful could one day become the eventful.
To everyone: happy spring, enjoy the summer, be safe, and be well. To our graduates: congratulations, well done, and keep Reaching HIGHER!
---
Campus Notifications: Confusion & Consternation
November 16, 2018
One of the most visible yet most misunderstood campus safety measures that UWPD facilitates is the issuance of timely warnings and emergency alerts. Required under the federal Clery Act, timely warnings and emergency alerts (we call themCrime Warnings and WiscAlerts on our campus) are intended to alert our campus community members when specific crimes have occurred within a clearly defined geographical area (Crime Warning) and when active threats (WiscAlert) are occurring within this same geographical area. Crime Warnings are sent campus-wide via email and serve to notify you of certain crimes that have occurred and are considered as ongoing because the suspects have either not been identified or apprehended — therefore, a potential continued safety concern exists. When a known and active threat (rather than a potential threat) is occurring, UWPD will issue a WiscAlert. WiscAlerts are sent via email, text, Facebook, and Twitter — they concisely communicate relevant information such that recipients can take immediate and necessary steps to avoid the active threat. Brevity is the hallmark of WiscAlerts given their emergent nature and narrowly intended purpose. Conversely, Crime Warnings – issued post incident – often provide greater detail (not always) given that the safety concerns are less imminent but nonetheless considered as ongoing for the reasons described above.
Recent expansions to our notifications to include incidents that happen just off-campus and the ability for parents/other designees to receive notices if a student lists them as a contact, combined with a spate of issuances around Freakfest (Halloween) a few weeks ago, appear to have compounded the usual confusion that exists with respect to our notification processes and have garnered a measure of consternation and concern as well. Ironically, the very mechanisms we have in place to ensure safety by alerting and informing our community of potential and actual threats, in many cases cause alarm and perpetuate perceptions of a lack of safety instead.
Understandably, any cluster of alerts issued in a short period of time raises questions about safety on our campus and prompts consideration as to whether or not these alerts are an indication of a marked increase in crimes occurring on or near campus. To offer context and assurance, below is a comparison of Crime Warnings and WiscAlerts issued during the fall semester (September 1 – December 31) for the past four years:

Totals for all timely warnings issued between January 1 and October 31 for the past four years:

In an effort to keep our community more informed about emergency incidents in their vicinity, UWPD launched a pilot program this past October called "Off-Campus Alerts." These alerts are a supplement to our standard and required WiscAlerts. The key difference is that Off-Campus Alerts (OCAs) alert our community about significant threats in certain areas OFF the UW-Madison campus – in areas where a large number of our students live or frequently visit. This expansion moves us beyond what is minimally required through the Clery Act and is responsive to recent feedback we've received that suggests our community has a desire to be more informed about significant crimes and emergencies happing near campus. By definition, expanding the geographical boundaries within which we will issue these alerts means that there will be an increase in the number of alerts received, which in turn, fosters a perception that crime has increased and safety has decreased. But as the above numbers indicate, there has been no marked increase.
This is not to minimize the concerns we all share whenever incidents that threaten the safety of our students and overall campus community occur, on or off campus. UWPD is committed to ensuring safety through collaborative approaches — and to this end we work closely with campus partners and stakeholders to include the Division of Student Life, University Health Services, Housing, SafeWalk, ASM, and other student groups and shared governance bodies to address safety issues. In addition, we share information and receive ongoing feedback through our Police Advisory Council, Community Forums, and other engagement initiatives, and have established representative groups to provide ongoing service assessment and promote continuous improvement. One such example is our Clery workgroup comprised of various campus units/departments, including University Health Services, University Communications, Housing, Student Life, Legal Affairs, Human Resources, Athletics, and more. This group periodically reviews and evaluates our crime warning processes and issuances and recommends specific adjustments and improvements as warranted. Lastly, UWPD regularly communicates with and partners with the City of Madison Police Department to address a range of safety issues that impact our shared campus and broader city community.
I understand that our notifications can and do create concern, and in many cases, fear. And while the criteria established by federal law dictates if, how, and when we are required to issue a Crime Warning or WiscAlert — thereby largely removing discretion in their issuance — there are ways we can make adjustments to improve the process, content, and follow-up communications. Certainly, our Off-Campus Alert pilot is an example of how we can go above and beyond what is minimally required. Working to ensure campus community safety is UWPD's priority and is at the center of everything we do. To this end, we will continue to evaluate the effectiveness and impact of our timely warning processes and make improvements where we can.
For more information about our notifications and crime warnings, please click here.
---
A Calling Together
September 4, 2018
From the phone, to my son's late-night waking when he was young, to my chosen profession, I have answered countless calls – literally and figuratively – in my lifetime. Now, each fall I am privileged to answer a new call – a calling together in which I join others in ceremoniously welcoming our newest students to this campus community. In my brief time serving as Associate Vice Chancellor and Chief of Police here, I have quickly come to appreciate the cyclical nature of the academic year and our celebration of scholarly beginnings, and endings, which in turn lead to new beginnings. We celebrate these entrances and exits because students are what call us together here in the service of a common purpose – one that holds all the promise of the future. As I sit among my robed colleagues at convocation, I am proud to be a part of this team dedicated to welcoming, nurturing, guiding, teaching, and supporting these newest students and all our students.
At first glance, a police chief sitting next to deans, chancellors, and other campus administrators at a ceremony to welcome incoming students may seem incongruous. Instead, it is representative of the comprehensive approach to supporting students to which the University of Wisconsin-Madison is committed. Here we recognize that a healthy and safe student is more likely to be a successful student. The UW-Madison Police Department (UWPD) most certainly does not come first to the minds of students, faculty, or staff when considering all that contributes to a positive campus life experience. Yet the men and women of UWPD engage daily with our many campus partners and work 24 hours a day, seven days a week to collaboratively ensure safety through education, prevention, intervention, and resolution. Contrary to what many believe, police are not merely reactive, answering calls for service as they arise. While this constitutes a portion of the services we provide, the majority of the work we do focuses on prevention, education, awareness, and problem-solving efforts. From our Emergency Management Unit, to our Community Officers, to our Infrastructure Security Unit, to our Field Services Unit, to our Investigative Services Unit, to our K9 Unit, to our Lake Rescue & Safety Unit, to all the departmental support systems behind these varied and specialized services, as leaders in innovative community-oriented policing, UWPD proactively works to promote campus community wellbeing through collaborative approaches to ensuring safety. We serve in partnership to support and facilitate the educational mission of the University of Wisconsin-Madison and seek to cultivate a campus environment in which all students, faculty, and staff are safe.
To this end, UWPD initiatives such as Badger Watch, our Threat Intervention Team, our annual sexual assault awareness campaigns, such as Tell Us or Don't Be That Guy, as well as various alcohol education and interdiction programs, and most recently our leadership in developing campus guidelines to protests and demonstrations are but a few examples of the ways in which we collaborate with our campus partners from the Division of Student Life, Housing, University Health Services, and others to ensure safety and contribute to a positive campus life experience for students, faculty, and staff. In addition, UWPD hosts biannual campus community forums, has established a Police Advisory Council comprised of various and diverse campus stakeholders, engages in relevant shared governance forums, and strives each day to build community relationships not only here on campus, but throughout Madison, Dane County, the State of Wisconsin, and across the country. Why? Because we are committed to our campus community, to the mission of the University of Wisconsin-Madison, and to The Wisconsin Idea, and to always Reaching HIGHER.
Each new beginning brings with it possibility and hope. As we enter into this new academic year, I welcome our newest students and the many opportunities we have as a department to develop positive relationships with all students, faculty, and staff. And it is my hope that we are not only called together as a campus community for convocation or commencement ceremonies, but that we carry with us throughout the year the shared commitment that calls us together for such celebrations – a commitment to a lifelong process of learning that takes us time and again through an endless cycle of beginnings and endings, and out of which the greatest potential for connection, growth, and change exists.
"Education is the most powerful weapon which you can use to change the world."
     – Nelson Mandela
---
Words Matter
April 16, 2018
"Words mean more than what is set down on paper.  It takes the human voice to infuse them with deeper meaning."
– Maya Angelou
April is Sexual Assault Awareness Month (SAAM), and like many organizations on campus and across the country, UWPD again joins this annual call to action to raise awareness about the prevalence of sexual violence and to further our respective and collective efforts to put an end to it.  This year's SAAM theme, "Embrace Your Voice", is centered around engaging new voices and the ways in which our words shape the world around us. Words matter.  And their power is optimized when they are given voice.
We all have a unique role to play in preventing sexual assault and in changing the culture surrounding it. The role of police in this effort may appear simple on its face – we invest in education and awareness initiatives endeavoring to prevent sexual violence and then respond to investigate these crimes when they occur. But the pervasiveness of sexual violence in its many forms, and police response to reports of sexual violence, is historically (and sadly to some degree presently) fraught.  Add to this the overall culture and existing attitudes with respect to gender stereotypes and sexual violence and the relationship between police and victims of sexual violence, particularly those from marginalized groups, becomes even more complicated.
So what voice does UWPD lend to the rallying cry to end sexual violence?  What are the messages that we wish to communicate – the words we offer toward change? To begin, borrowing on the motto from the campaign launched in 2014 by the White House Task Force to Prevent Sexual Assault – it's on us.  Each of us must own what is ours and do our part to end sexual violence.  As police professionals, we can start by educating our own, by hiring officers with the capacity to understand the complexities and sensitivities of these issues, and by providing them with the necessary and relevant training to best serve. At UWPD, we believe that how we engage with our students and our campus partners is the foundation for establishing trust.  Trust, in turn, helps to foster a climate in which victims of sexual assault understand that their police department will support them in whatever way possible regardless of specific decisions ultimately made to pursue or not pursue a criminal investigation/formal charges. Our first priority is in preserving safety and responding to victims of crime with compassion.  Justice and victims are best served when police start from a position free from assumption, bias, stereotypes, and judgment.
A recent report from the International Association of Chiefs of Police (IACP) entitled, Responding to Sexual Violence in LGBTQ+ Communities: Law Enforcement Strategies and Considerations, cites alarming and disturbing statistics regarding the frequency of sexual violence perpetrated against those who identify as lesbian, gay, bisexual, transgender, questioning, and queer and illuminates the work we (police) have to do in best serving this community and all victims of sexual assault and domestic violence. Many barriers to reporting exist, and for victims in the LGBTQ+ or other marginalized communities, these barriers are compounded by a criminal justice system that has in large part failed victims of sexual violence and in many ways re-traumatizes them. The decision to come forward to disclose or report is an individual choice and one that when considered in the context of various aspects of a victim's identity and cultural factors (race, religious or cultural affiliation, disability, immigration status, etc.) is indeed a very difficult choice to make. When victims do come forward to police, a swift and meaningful criminal justice response is critical for preventing future victimization and in deterring repeat abuses.  Further, appropriate police response not only fosters victim confidence, it also makes victims more likely to report future incidents. Police have a unique opportunity to help give voice to victims of sexual violence and to help create cultural change. To this end, it is imperative that we find ways to build trust and to identify, prevent, and eliminate bias in our own responses.
The UW-Madison Police Department is committed to prevention, education/awareness, and to competent and compassionate investigations regardless of the specific safety issue or crime. That said, our success in doing so requires that we understand the unique challenges that exist with respect to sexual violence and the important role we play in the criminal justice and community response to sexual assault. Understanding how and why survivors share their experience is critical to how police should respond to sexual or gender-based violence and vital to proactively and effectively addressing their needs. UWPD works closely with our campus and community partners in the Division of Student Life, University Health Services, Housing, Rape Crisis Center, LGBT Campus Center, and others on prevention of and response to sexual assault and to raise our voices in support of its survivors. One way that we have to get the word out and send a supportive message to victims of sexual assault is through our own campaigns such as "Tell Us" and "We Believe You."  With these messages, UWPD hopes that survivors will feel more comfortable in coming to us to report an assault.  While we understand that a video or billboard message in and of itself isn't likely to prompt a decision to report, we believe these campaigns combined with other dedicated efforts help raise awareness, further the conversation, and positively contribute to the broader campus culture and climate.
In addition to our campus partnerships and the collaborative, proactive work we do toward sexual assault prevention, awareness, and communication, UWPD officers receive initial and ongoing training not only in conducting sexual assault investigations, but in related topics such as implicit bias, cultural competency, ethics, professional communications, interviewing, and report-writing.  Our sensitive crimes detectives have received specialized training in trauma-informed investigations, and it is our standard practice to connect victims with advocacy support at the earliest possible opportunity.  UWPD policies and training direct officers to conduct sensitive and thorough investigations, to refer victims to available resources as appropriate, and to inform them of their rights as victims whether in criminal justice processes, in campus conduct processes, or both. Providing victims with the opportunity to make informed choices empowers them to choose which, if any, accountability options may be best for them.
SAAM 2018 encourages each of us to embrace our voice and to use our voice to become an agent for change.  As a young officer with the Madison Police Department in the early 1990's, by policy only female officers were sent to reports of sexual assault.  I recall vividly the first sexual assault to which I responded.  The tears and the fears of the victim – a woman barely younger than I was at the time – changed me forever.  Her story of sexual trauma and survival, and the stories of far too many women that have followed during my career are lessons in courage and in the power of speaking up and speaking out.  Their stories have not only shaped me and the work I do, they remind me of the profound responsibility we have as police officers to serve victims with open minds and hearts, to conduct competent investigations, and to do what we can, wherever we can, to speak out about sexual violence.  The collective UWPD voice offers support and reassurance to sexual assault survivors and encourages victims of sexual violence to embrace their own voice.  Together, our words – our voice – can change the narrative and create a culture of respect, equality, and safety.
---
Surviving February
February 14, 2018
"Discomfort is the price of admission to a meaningful life."
      – Susan David
I've never been a fan of February. February is that unfortunate month standing between us and spring. Like the first post-lunch conference presenter, or the safety instructions mindlessly issued by flight attendants, or a colonoscopy, February is something to be endured. Lest you think I'm being too hard on February, the month does offer a highlight or two in an otherwise relentlessly cold and gray string of days. For instance, it is the month during which my son was born and who doesn't like roses and chocolates for Valentine's Day? And as if it somehow knows how tired we are of winter each year at this time, February throws us a bone by lasting only 28-29 days tops. Of course, every four years we can look forward to watching athletes from around the globe make the most out of winter by hurtling down snowy mountains on skinny fiberglass planks, launching themselves from snowy high jumps hundreds of feet in the air, flying down iced chutes at 80 mph on sleds, wearing bladed shoes to dance, jump, glide, and slap pucks into nets, or surfing giant icy tubes cut in half. So thank you, February, for that.
For many people, February finds bold and daring new year's resolutions giving way to old habits and routines. As winter wears on it can wear us down a bit, making it difficult to remain resolute against the pull toward the familiar and the comfortable. But the mission and vision of UWPD are rooted in a commitment to Reaching HIGHER and this commitment demands that we resist the pull of "business as usual" and instead push past comfort zones in the interest of continuous improvement. To this end, I believe it's important to occasionally take stock of where we are and where we've been in order to set a course for where we want to go. This inventory is more than a list of achievements – it's a roadmap to successful and collaborative policing that not only shows us what we are capable of but reminds us as well of mistakes made and lessons learned.
Looking back at my first year as chief here, I am certainly proud of the many things we have accomplished together as a department and as a campus community. During this past year, I hired 24 new employees, made 16 promotions, swore in 14 new officers and ushered four employees into retirement. We established the first UWPD Employee Advisory Council comprised of elected representatives from various department work units. This group worked on employee issues ranging from vacation pick processes to uniform adjustments to equipment needs – and together we improved information sharing and department transparency. We bolstered our partnership with the Madison Police Department through improved communication, crowd management support at Freakfest, collaborative training opportunities, and special team support. We worked with UW's Center for Healthy Minds to apply for and receive grant funding to include UWPD officers in a two-year study researching mindfulness and resiliency for police officers. We implemented a formal employee recognition process to acknowledge and document exemplary performance and hosted our first New Employee/Promotion Reception. We partnered with the Division of Student Life to develop response guidelines for campus demonstrations and protests, and established an Incident Review Group comprised of key campus stakeholders to gather information about specific incidents that have occurred on certain campuses across the country, such as the active killer at Ohio State or the tragic protests at University of Virginia/Charlottesville, in order to identify our own potential vulnerabilities and areas in need of attention or improvement. We hosted our first in an ongoing series of Community Forums, conducted webchats to engage the community in conversations about campus safety, and after months of collaborative planning and discussion, this past January we convened the first UWPD Police Advisory Council. Comprised of various and diverse campus stakeholders, the Police Advisory Council acts in an advisory capacity to provide community input and feedback. The council will accept, review, and discuss concerns voiced by students, faculty, and staff and provide input on programs, projects, and policies aimed at improving campus safety. These are but a handful of our many successes this past year. Not an organization accustomed to resting on our laurels, members of UWPD understand and believe in the importance of advancing our vision to support and facilitate the educational mission of the university and cultivate a campus environment in which all students, faculty, and staff are safe. To this end, we've worked throughout this past year to develop a four-year strategic plan.
Building on the mission, vision, and core values of UWPD, our strategic plan is framed around four identified priority areas:
Employee Recruitment, Hiring, and Training
Employee Health, Growth, and Development
Organizational Culture and Climate
Community Outreach and Collaboration
All four of these strategic priority areas are inextricably linked and serve a primary objective: individual, organizational, and community wellness. Our success in recruiting and retaining qualified, diverse, and dedicated employees must be supported by a thoughtful and relevant hiring strategy. Once hired, our initial and ongoing training and departmental systems must promote individual employee health, growth, and development. This, in turn, fosters a healthy organizational culture in which employees feel included, empowered, prepared, and motivated toward positive community engagement and collaboration – all in the service of ensuring safety and wellbeing. I look forward to sharing more information in the coming months regarding specific projects we will begin working on in each of these areas. In addition, strategic plan progress updates will be regularly provided to the Police Advisory Council and their insights, feedback, and guidance will be essential to this ongoing process.
In her poignant TED talk entitled, "The Gift and Power of Emotional Courage," Susan David notes that, "At a time of greater complexity, unprecedented technological, political and economic change, we are seeing how people's tendency is more and more to lock down into rigid responses to their emotions". Her message encourages us to allow ourselves to sit with, learn from, and support one another in the "messy, tender business of life" and further reminds us that it is only by learning to be comfortable with discomfort that we can be our best selves and truly flourish as individuals, as organizations, as a community. Growth and improvement require that we take occasional inventory of where we've been, where we are, and where we want to go. It requires more than just showing up. It requires a willingness to be vulnerable, to wade through the muck and to step outside our comfort zones. With a little over a year under my belt now, I am ever more committed to Reaching HIGHER and have come to better understand that the key to surviving the Februaries in life is in our ability to keep moving, in all ways, forward.
---
Climate Change
November 20, 2017
The origin of the word climate dates back to 1375, from Old French climat, from Latin clima – "to slope", from Proto-Indo-European klei – "to lean". In its earliest and still most common usage, climate refers to the weather in some location averaged over a long period of time. In this sense, climate is an aggregate of environmental conditions with a particular slope or lean developed over many years and as such climate change can only be effected over time. When considered in the context of the recently released UW-Madison Campus Climate Survey results, I'm drawn to these original meanings as a framework within which to examine and better understand the various factors that shape our campus climate, the different ways in which those in the same location experience its climate, and the challenges inherent in changing the slope or lean of something created over many years.
The goal of the Campus Climate Survey was to understand students' experiences with and perceptions about campus climate and diversity, including how people of different backgrounds and identities experience life at UW-Madison. While most students, especially majority students, reported a positive campus climate at UW-Madison, across many survey questions students from historically underrepresented and disadvantaged groups reported less positive views of campus climate, to include a lower level of comfort in contacting the UW-Madison Police Department (UWPD). The fact that Trans/non-binary, LGBQ, Students of Color, and students with a disability reported that they were less likely to feel comfortable contacting UWPD if they had a problem is at best disheartening and further illuminates the trust challenges facing not only our department but the department across the street and those across the nation.
UWPD is committed to serving all members of our campus community. As a public servant, a Badger, a longtime Madison resident, and UWPD Chief, I am deeply concerned about any reported community reluctance to reach out to police for assistance. I understand that there are many social and political obstacles in place that inhibit/prevent certain individuals or groups from officially reporting problems to police and that many of these are beyond the ability of the police alone to eliminate. But to the extent that UWPD can identify and eliminate specific barriers, work collaboratively with our community to positively impact campus climate and build trust with those who are reluctant to turn to our department for help, we will invest the necessary time and resources wherever possible.
So what can we do? Scientists offer two strategies for addressing climate change: mitigation and adaptation. Mitigation involves limiting the extent of damage, while adaptation means changing the way we as a society live in response to the current/changing climate. UWPD endeavors to mitigate existing campus climate challenges through numerous ongoing outreach efforts such as our Community Officers, LGBTQ Liaison Officers, and CARE Team programs; through participation in various community engagement opportunities such as the Amigos en Azul program and United Way Immigration Task Force; through awareness and education initiatives such as our "We Believe You" and "Tell Us" campaigns; through ongoing cultural competency and implicit bias training; and through continued focus on improving our recruitment and hiring processes in an effort to create greater diversity within our ranks. Addressing climate change through adaptation strategies means that as a campus community and as a police department we cannot simply accept the status quo and must instead explore ways to individually and collectively reduce our "carbon footprint". This principle is embodied in our UWPD "Reaching HIGHER" core values which not only ground us in the daily practice of serving our community with respect, integrity, compassion, and honor, but remind us that there is always room for improvement. As guardians dedicated to promoting community health and safety, UWPD is committed to continuous improvement. This commitment to continuous improvement means that we seek to foster healthy adaptation to changing environments and community expectations and that we welcome every opportunity to listen, to engage, and to cultivate trust through open and honest communication.
The challenged relationships that exist between police and marginalized groups have been shaped over many years. And while the current climate as negatively experienced by some of our UW students is not exclusively of our (UWPD) making, it is certainly one to which police have most often unintentionally, though arguably at times intentionally contributed over time. Of course, as with the climate change/global warming debate, we must first acknowledge that a problem exists and examine our role in creating it. To this end, UWPD regularly reviews department policy, procedure, and training, and we hold ourselves to rigorous best practice standards through our triple accreditation distinction. In addition, UWPD continues to establish collaborative mechanisms by which we can solicit and receive community input and feedback. By the close of this semester we will have in place the first UWPD Police Advisory Council, and on November 27th at 4:00 PM we will host the first of many community forums to engage those interested in discussion, address campus safety concerns, and answer questions. Lastly, as a campus community we must also accept that any remedy to a slope or climate long in the making and shaped by many factors, will require both a willingness to work together, and the patience necessary to effect significant and meaningful change over time.
---
On The Side of Peace
September 6, 2017
The warnings started from day one. Since I set out on this new adventure as Chief of the UW-Madison Police Department last January, nearly everyone I have met here on campus has issued me the same warning thinly disguised as advice: "Just wait until the fall!" Yet even as the words were spoken, there was a twinkle in the eye of their issuer and a flash of energy borne of eager anticipation that belied the dire warning. The truth is that this is what we have been waiting for all summer. It's why we are here and why we do the work we do. The fall semester is an annual rite of passage that brings with it challenge, possibility, and hope.
Fall has always been my favorite time of year. When I was a student here, fall meant the start of another volleyball season and the opportunity to strive to be better – as a player, as a student, as a person – than the year before. And while each new academic year brought new challenges, it also brought new friends, new resources, and cumulative knowledge. Now, as I head into my first fall semester at the helm of the UWPD, I welcome the opportunities that we have as a department and as guardians of this campus community to be better, to engage existing and new campus partners to help define and fulfill our mission, and to further build upon UWPD's solid foundation of problem-oriented community policing.
This does not mean that I do not heed the warnings of those who have been serving our campus community as faculty, staff, or administrators, for many seasons. I understand that with the start of another academic year comes a more demanding pace and the various challenges that a thriving and increasingly more diverse campus community can present. Perhaps one of the greatest challenges we face at this particular time as a campus community – a challenge currently facing every campus community – is how we will choose to respond to open debate and critique inherent in the pursuit of knowledge.
Recent events in Charlottesville, Berkeley, Boston, Phoenix, and our own blemished history offer us lessons as well as an opportunity to do better – to be better. UW-Madison leadership has been consistent and clear in our message. Our message unequivocally denounces the use of violence in the service of racist and anti-Semitic ideology and groups like the KKK and neo-Nazis. Our message emphasizes the value of diversity and a firm belief that the pursuit of knowledge is best served when it includes diversity of thought, experience, and being. Our message reinforces our commitment to peaceful free expression and exchange of differing viewpoints, even those that seemingly or inherently violate the values for which this campus stands. Our message seeks to unite this campus around a common purpose – that of listening, learning, and growing not despite our many differences but because of them.
As your Chief, I understand the vital role that the UWPD plays in the facilitation of open debate and the free exchange of ideas. Indeed I and all UWPD officers have sworn an oath to uphold these and other constitutional principles. While some may wish for police to use our authority and ability to exercise various levels of force to obstruct or entirely shut down any expression of ideologies espousing hate, the role of police in a free society demands professional neutrality. Regardless of our personally held beliefs or opinions, as peacekeepers charged with the responsibility to safely facilitate expressions of the First Amendment, there is only one side on which police can and should choose to be: on the side of peace.
To this end, the UWPD is committed to collaborating with campus partners like the Division of Student Life, Chief Diversity Officer, Director of Community Relations, Registered Student Organizations, and others to successfully facilitate peaceful demonstrations and safely provide for the expression of First Amendment rights. Voluntary compliance with the guidelines for protests and demonstrations that we have established and continue to assess is always our primary objective. As such, the UWPD philosophy, training, planning and approach to crowd management emphasizes the importance of communication before, during, and following these events. We will only employ the minimum level of intervention necessary to address actions that threaten the safety of our community members or of our campus, and only when voluntary compliance options have been exhausted or are not an option under the circumstances. The UWPD will research and evaluate potential campus speakers and events that raise safety concerns to determine whether or not a significant likelihood for violence is associated, and make recommendations to campus administrators up to and including the Chancellor as to whether or not an event can safely take place here on campus and if so what steps need to be taken to protect our community.
Peaceful protest has been a part of our campus culture for more than half a century. And historically, the role of police in campus protests and demonstrations here and across the country has admittedly been fraught with challenges. But in every challenge lies possibility. As summer comes to a close and we welcome new and returning students this fall, I look forward to all the possibilities we have before us to engage in open debate and conversation. While there is always more work to be done, we are a department and a campus committed to creating a community where everyone feels safe and has the ability to thrive. It is my hope that together we will meet these many challenges and possibilities with patience and with peace.
"Peace is not merely a distant goal that we seek, but a means by which we arrive at that goal."
– Martin Luther King Jr.
---
Advancing the Vision
April 20, 2017
"Members of communities are key partners in creating public safety, so communities and police need mechanisms to engage with each other in consistent and meaningful ways."
– President's Task Force on 21st Century Policing
During the process that led to my selection as UWPD Chief of Police, I was asked to publicly present my vision of a successful campus police department and to outline the strategies I would employ to advance this vision. Central to the vision I shared, is the understanding that trust is cultivated through consistency, consideration, and care. To this end, I am committed to community engagement and collaborative approaches to ensuring safety. And as I stated during my presentation and in numerous and varied forums since I began, I believe an essential strategy to further this particular vision is to establish a formal community advisory committee.
In these first few months as chief, through conversations both within the department and with several campus partners/stakeholders, I have developed a process framework to move this effort forward. It consists of three phases: information gathering, planning, and implementation. While I am fully committed to creating a community advisory committee, I understand that a thoughtful and collaborative approach will best ensure its effectiveness and sustainability — and as such will take time.
Currently, in this first phase, I am researching existing models for campus community advisory committees, meeting with various campus partners to gather information and insight, and working with these same partners to identify individuals representing a cross-section of campus and larger community stakeholders to participate in the planning phase. Next, during the planning phase, the identified stakeholders will provide input for the development of advisory committee expectations, goals, objectives, membership, and other operational details. Finally, the implementation phase will put in place community advisory committee members and establish mechanisms for ongoing assessment and communication regarding committee activity. It is my hope that by late fall, our first community advisory committee to the UWPD will officially convene.
Given that this endeavor is a work in progress, and I can't foresee all possible bumps in the road ahead or predict the ways in which collaborative input will shape the process, the framework I've proposed here is certainly subject to change. As process adjustments are necessarily made, I will provide updates — so stay tuned for progress reports in the coming months. I am excited about the opportunity to work together toward what I believe is not my vision alone, but a shared vision. One that seeks to cultivate trust, foster improved police-community relationships, and to further promote campus safety through meaningful engagement and community input.
---
A Difficult "Peace"
March 16, 2017
This is a difficult piece to write.  It's difficult because in response to concerns and criticisms I have received following a recent Crime Warning my department issued — this written offering attempts to explain our process in the interest of providing clarity and creating understanding without communicating a defensiveness that I do not feel or intend to convey.  It's difficult because it is written with the hope and desire to invite conversation not impede it, yet I know that in our current climate even in the face of invited questioning and justified demands for assurances of accountability, my words – no matter how well-intended – will not meet with everyone's approval.  But most of all, this is a difficult piece to write because the concerns that have been raised about the Crime Warning are legitimate and serve as a painful but valuable reminder of the ways in which police have historically failed and in some ways continue to fail our communities of color.
For those of you who may not know, three weeks ago the UWPD issued a Crime Warning to alert our campus community of two African American burglary suspects at large.  Crime Warnings are required under the Clery Act and in the past two years, the UWPD has issued 25 such timely alerts.  Several things were unique about the Crime Warning sent on February 27, but what caught many people's attention, was that this warning included photographs of the suspects.  Because Crime Warnings are sent very closely following a particular crime to quickly alert our community of an existing or ongoing safety threat, it isn't often that we have a lot of detailed information at the time of the release.  Detailed suspect descriptions for these warnings are rare, and photos are even rarer.  So rare, in fact, that since 2015 there has only been one other incident for which we had photos available. In that case, the decision was made, as is allowable within federal law, not to include the suspect photo in the warning because doing so would've compromised the pending law enforcement investigation. The inclusion of suspect photos in this case has raised concern among many who point to questions of overt or implicit bias in the decision, as well as questions about our level of awareness and sensitivity to the social backdrop against which this warning was issued – a backdrop in which Black lives are increasingly the target of hate attacks and threats of violence.
I understand that sending these campus-wide alerts can create damaging unintended consequences for our communities of color, particularly African American men. The UWPD is sensitive to this potential impact and whenever a Crime Warning is sent, we endeavor to balance our duty to protect members of our community from potential crime victimization, with our desire not to unduly reinforce or perpetuate negative stereotypes. I also understand that by including the suspect photos in the issuance of this particular warning, we simultaneously promoted the safety of our overall community while creating a potential safety concern for African American men in our community who are too often unfairly targeted/profiled as criminals. Therein lies the dilemma.
Many of our guiding principles when issuing a warning have been developed through an established Crime Warning Workgroup consisting of various campus administrators, and do include a consideration of the impact that issuing these warnings may have on our communities of color.  For example, we will not include a suspect description if the only description we have is limited to race and sex.  It is our belief that such a general description does little if anything to effectively warn and protect the community and could do more damage to our people of color in certain instances.  This is a change we made in 2015 following community feedback and one that I think demonstrates our willingness to work to strike an appropriate balance.
As difficult as these conversations can be, I welcome opportunities to further review and respond to concerns about decisions made and actions taken, particularly when they call into question matters of consistency, fairness, and disparate impact.  I have engaged in several conversations, both internally and externally, over the past few weeks. From these discussions, I have identified the following ways that we will work to improve our Crime Warning process:
Ensure representation from a person(s) of color on the ad hoc Crime Warning Workgroup mentioned earlier who has demonstrated cultural competency and a capacity for critical thinking
In addition to our existing practice of consultation with the Dean of Students, and University Communications, build into our process consultation with the Vice Provost and Chief Diversity Officer prior to the issuance of Crime Warnings that are likely to impact communities of color
Review our guidelines for including photographs of suspects and communicate the process to our community
Provide additional cultural competency training for UWPD managers
As Chief of this department, I am committed to engaging our community and entering into constructive conversations around complex issues such as these with an open mind and an open heart.  I am willing to listen, to acknowledge when missteps occur and work to address them, and to facilitate a process of continuous feedback and improvement that is shaped by a responsiveness to community expectations.  And while we won't always agree on specific decisions made, I believe it is important to keep talking, learning, and working together to build trust and promote safety for all members of our community.
---
Reaching Higher
February 16, 2017
In this short Life
That only lasts an hour
How much – how little – is
Within our power
For the better part of my career, I've had a printed copy of this Emily Dickenson poem hanging in my office just above my desk.  It has always served as a reminder to me that for as long as I am here, one of the few things over which I have control is how much I invest, how present I am, and how much I give – to whatever effort, challenge, or relationship is in front of me.  To this end, those who know me well know that I don't do things half-heartedly, I strive for continuous improvement, and I'm not one to give up without exhausting all possible options.  This has been my approach to most things in my life, and stepping into this position as Chief of Police for the University of Wisconsin-Madison Police Department is no exception.
My first month has flown by quickly. In my short time here I've sworn in 3 new officers and was officially sworn in myself. I've attended my first UWPD in-service training and this week I'm conducting my first round of officer candidate interviews.  I've been meeting regularly now with a host of campus partners and have many more introductory meetings scheduled in the weeks ahead.  At each turn, I've been received with warmth, support, and a genuine desire to constructively engage around issues that impact the quality of life, safety, and education on our campus.  I recognize the tremendous opportunity I have to contribute to this community in leading the exceptional men and women of the UW-Madison Police Department.  So with my first "Chief's Corner" blog, I want to begin by sharing the framework out of which I lead, and my vision moving forward.
At our core, UWPD is committed to promoting and supporting the academic and research mission of the university.  Our primary focus, of course, is safety — and to this end, we are proactive in our efforts to be leaders in innovative community-oriented policing.  We value diversity and promote campus community wellbeing through collaborative approaches to ensuring safety.  Our work and my vision for this department is grounded in the concept of "reaching higher".  This means that we are committed to a continuous process of assessment – of working toward that next level of service and to do this requires ongoing solicitation of feedback, engagement, and a responsiveness to the community we serve.  It requires communication, consideration, collaboration, compromise, consistency, and creativity.
So how do we advance this vision?  I believe we start by listening.  Shortly after I took office, I began the process of establishing both external (community) and internal (department) advisory groups.  I've met with students both through ASM and in smaller groups to hear directly from them about their concerns, expectations, and ideas.  I've partnered with campus administrators, staff, and faculty to discuss such issues as campus carry, sexual assault, alcohol use/abuse, use of force, community control of police, protest guidelines that seek to facilitate free speech even when that speech is unpopular or even hateful, questions about immigration enforcement, and the fear that many students of color experience.
This blog – the first of many to follow – is just one way that I hope to improve communication, offer a level of transparency, create a mechanism for sharing insights and updates, and further cultivate trust and understanding.  The issues before us present complicated challenges that aren't easily resolved.  But I am committed to the process, to engaging in community conversation and in doing what is "within our power" in the UWPD to work toward solutions.