With heavy hearts, the UW–Madison Police Department is sad to announce the passing of K9 Odin, the department's eldest active K9 officer. Odin was nine years old.
Over the last few weeks Odin's handler, Lt. Brent Plisch, noticed some unusual behavior not typical of Odin — he was more tired, reluctant to eat, and just wasn't acting himself. A trip to the vet revealed Odin had several masses on his spleen and liver. The decision was difficult, but Odin's pain and suffering far outweighed any short-term benefits that surgery might have offered. In Lt. Plisch's words, "I have made the decision to let him go in the most dignified way possible, giving him the chance to be as honorable in his death as he is in life."
Odin officially retired from UWPD last Friday — a day in which he was spoiled by every single UWPD employee with treats, pets, and lots of love. Odin spent this past weekend with Lt. Plisch and his family — it was the first Badger Football home game Odin had missed in seven years. He was put to rest Tuesday morning at his home in McFarland, surrounded by family.
Odin was transported from his home to Memorial Pet Services via police processional – thank you to the many state and local first responders who took part in the procession and paid tribute. Odin's remains will be buried at a later date alongside past UWPD K9s Mosley and Rex.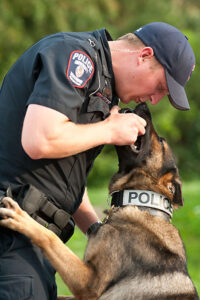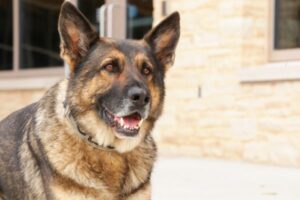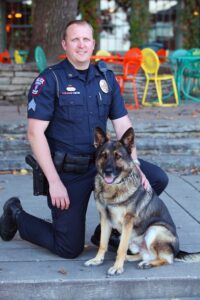 Odin started at UWPD in June 2010. Odin was an explosive-detection and tracking K9 for the department. He has protected presidents, vice presidents, cabinet members, governors, first ladies, presidential candidates, heads of state, His Holiness the Dalai Lama, and hundreds of thousands of spectators and athletes at sporting events, protests, and other large social gatherings. Odin was one of only a few dogs in the nation to have found a live explosive device on a deployment. He worked with the U.S. Secret Service, the ATF, DEA, FBI, countless local, county, and state agencies, and has attended thousands of hours of training and certifications. Odin was due to retire from UWPD in January 2018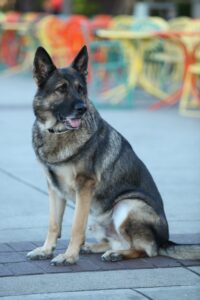 Odin's accomplishments were impressive — but what's bigger is the impact he had on his family at home, his UWPD family, and Lt. Plisch himself. Odin was adored by many — always bringing a smile to faces when he snuck into various UWPD offices searching for a treat and head scratches. His personality was infectious. He will be greatly missed — especially by his best friend, Lt. Plisch.
Lt. Plisch would like to extend a special thank you to Dr. Mike at Spartan Animal Hospital for Odin's care over the years — and especially more recently in Odin's final days. Special thanks also to the wonderful staff at UW Veterinary Medicine for their care over the years.
Our thoughts and prayers are with Lt. Plisch and his family during this incredibly difficult time.