The UW-Madison Mounted Unit was first established in 1989. Our Mounted Unit works in conjunction with other mounted officers from various police departments from across Dane County and around the state in a variety of different assignments. Horses are very useful in crowd situations, due to the height advantage of a mounted officer being able to see and be seen, and the ability of a horse to move through almost any crowd where it may be difficult or impossible for a squad car to go.
Meet our Mounted Unit!
Rettke & Officer Jolene Eck
Rettke was born in 2017 and is a Percheron Mare. She's from Canada and joined UWPD in 2022. Rettke began her initial training in Texas prior to arriving in Wisconsin, partnering with Officer Jolene Eck.
You can see Rettke around campus April-November on routine patrol or at community events. She may also be assisting with traffic control near the Kohl Center or Camp Randall during special events. Rettke enjoys pasture time with her herd, taking baths, and lots of treats! She is full of energy and enjoys trail rides when not at work.
Rettke is named after former UW-Madison volleyball player Dana Rettke!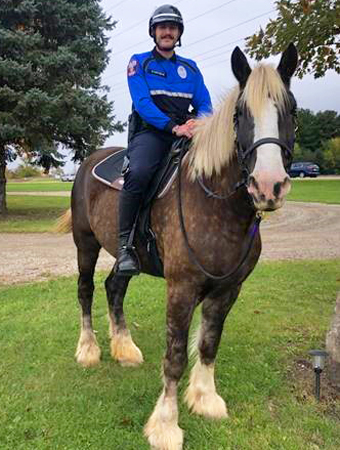 Vetter & Officer Ryan Conybear
Vetter was born in 2012 and is a Clydesdale Percheron Cross (Mare). She is partnered with Officer Ryan Conybear they they've been working together since she arrived at UWPD in 2022. Vetter is from Canada and moved to Texas to start her training with Mounted Patrol International (MPI) before beginning her training with Officer Conybear.
Vetter is used for high visibility patrol, crowd management, search and rescue, and community engagement. When Vetter is not at work, she enjoys grazing and hanging out with her pasture mates, Rettke, Bootie, Endzone, and Meela.
Vetter is named after former UW-Madison hockey player Jessie Vetter!
Past Mounted Teams
Vegas & Asst. Chief Kari Sasso
Vegas started at UWPD in 2005. He was s a 2001 Appendix Quarter Horse gelding, meaning he is part Thoroughbred and part Quarter Horse.  His registered name was "Counting Coins," but he was well-known in our community as Vegas.
Vegas was a critical part of safety and security on the UW-Madison campus for over 12 years. Crowd control was Vegas' specialty – working his way through seas of people to ensure everyone's safety. While Vegas took his work very seriously, he loved people and was one of the most gentle 1,300 pound creatures you've ever met.
In the summer of 2015, Vegas was diagnosed with Degenerative Suspensory Ligament Disease. It affected Vegas' ability to use his hind legs, causing lots of pain. The disease is incurable – so, there were no treatment options for Vegas. He worked a few times in 2015 and 2016, but it was very evident to his rider, Asst. Chief Kari Sasso, that continuing to work was not an option for Vegas any longer.
With the expert care of the UW-Madison School of Veterinary Medicine, Vegas was put down on January 10, 2017. View photos from UWPD's farewell and final salute to Vegas.