Green Flag: Winds approx. 0-18 mph. Sailors with a light weather rating may sail.
Blue Flag: Winds approx. 18-30 mph. Sailors with a heavy weather rating may sail.
Yellow Flag: Cautionary flag requires sailors to stay within the yellow line area which is an imaginary line running from the tip of Picnic Point to the red and white Oscar Meyer smoke stack.
Blue/Red Flag: Winds over 30 mph. Yellow line in effect. Limited craft allowed out.
Red Flag: Lake is closed. Storm approaching - return to Hoofers ASAP. No sailing equipment is allowed out.
No Flag: Lifesaving Station is not open. Lake is closed for Hoofer sailors.
CONTACT US
EMERGENCY:
(608) 262-3505
Non-Emergency:
(608) 262-5865
First established in 1909, UWPD Lake Rescue & Safety provides a vital lake rescue service for UW-Madison students — and the greater Madison community — who frequent the waters of Lake Mendota. More than 100 years later, LR&S continues to provide a lake safety and rescue operation for boaters and swimmers.
Condition Details

Wind Direction

Wind Speed

Air Temperature

Water Temperature

Sunset
---
Local Weather Forecast
---
Follow us!
For the latest lake conditions, flag color, forecast, and more — be sure to follow @UWHarvey on Twitter!
Lake Rescue & Safety hours of operation are designated to provide service to UW groups through approximate sunset and may change according to their schedule. Hoofer Sailing Club members and Outdoor UW renters are to return 30 minutes before the Lifesaving Station closes.
Download a printable PDF version of this schedule »
SEASON
DATES
HOURS
SPRING SCHEDULE
Closed Mondays & Tuesdays
April 5 - 30

12:00 p.m. - 7:30 p.m.
May 3 - 26
12:30 p.m. - 8:00 p.m.
SUMMER SCHEDULE
Open daily
May 27 - July 23

11:00 a.m. - 8:30 p.m.
July 24 - Aug. 13

10:30 a.m. - 8:00 p.m.
Aug. 14 - Sept. 4

10:00 a.m. - 7:30 p.m.
FALL SCHEDULE
Closed Mondays & Tuesdays starting Oct. 1
Sept. 5 - 17
11:30 a.m. – 7:00 p.m.
Sept. 18 - Oct. 1

11:00 a.m. - 6:30 p.m.
Oct. 4 - 15
10:30 a.m. - 6:00 p.m.
Oct. 18 - 29
10:00 a.m. - 5:30 p.m.
For Lake Mendota emergencies on days and times when the Lifesaving Station is closed, call 911.

In April 1908, two UW students drowned in Lake Mendota when their canoe capsized off Picnic Point. One year later, UW President Van Hise — reacting to this and similar tragic stories — proposed a university-operated lifesaving station on Lake Mendota. Jo Steinauer, UW's golf and swimming coach — assisted by a crew of volunteers — served from 1912 to 1914.
Thomas Isabell — a successful Great Lakes captain, shipowner, and salvage diver — came to Madison around 1914 to run the lifesaving service and assist the UW crew. His equipment was primitive by today's standards. Key to the operation was the Cardinal, a 30-foot coaching launch for the UW Crew. Basically a pleasure boat, the Cardinal had a top speed of only 25 mph. Isabell became something of a media personality, frequently quoted in the paper when a reporter needed to know when the ice would leave the lake or how many canoes capsized during the last storm. Even though his work usually involved recovery rather than saving lives, Captain Isabell was regarded as a hero by UW students.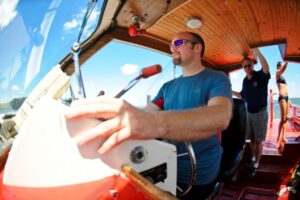 In 1921, following the drowning of a UW student near Governors Island, the University Student Senate passed a referendum demanding that Captain Isabell be given additional equipment and staff. The following spring, "Cap" had his first assistant. By August 1922, he had a new boat that he had designed for rescue work on Lake Mendota. Following Cap's retirement, Ted Hilgers, served as captain of the station from 1935 until 1939. Harvey Black became the station's captain in 1940 and served in that capacity until 1970. The service continued to grow as new boats, the Isabell 2, Isabella 3, Isabella 4, and the Harvey C. Black (old Rescue 62), were brought into service and subsequently retired.
The lifesaving service moved into its current home behind the old Governor's Residence in the fall of 1967.
In 2018, the UW–Madison Police Department took over operations, and re-branded the unit "UWPD Lake Rescue & Safety."
Lake Rescue & Safety maintains a seasonal lake watch — April through October — from its lookout tower/boathouse facility located on the southeast shore of Lake Mendota. The observation tower affords a view of approximately 80% of Lake Mendota's 9,842 acre surface area. Two 31-foot twin-screw rescue launches are maintained to assist boaters.
The rescue service keeps close ties with members of the Hoofer Sailing Club and canoeists from Outdoor Rentals, both located at the Memorial Union. The two groups have formulated a series of agreements to ensure safe boating practices among campus lake users.
Depending on the day's weather and lake conditions, boat rentals and user restrictions may be imposed.  Hoofer sailors are required to pass a progressive rating system to sail under the day's "flag" conditions as determined by the UW Lifesaving Station.  When severe weather is imminent, the UW Lifesaving Station activates a steam whistle and flashing red light system to warn boaters, and conducts a storm warning run around the lake.
Lifesaving Station Operators
UWPD Lake Rescue & Safety employs Lifesaving Station Operators (temporary employees) to work at the UW Lifesaving Station. The season runs from April through October (see our hours for more details). Duties include operating two 31′ twin-screw rescue boats to assist UW and private boaters, maintaining a watchful eye on current lake users, and monitoring weather conditions.
We generally hire applicants with varying combinations of the following qualities/skills:
Knowledge of operating powerboats
Knowledge of operating twin-screw inboards
Successful completion of the Wisconsin DNR Boater's Safety Course
Knowledge of non-motorized watercraft (sailboats, windsurfers, canoes, and kayaks)
Knowledge of lake rescue procedures
Knowledge of basic weather and lake conditions
Knowledge of Lake Mendota
Knowledge of basic CPR (CCR)/AED/first aid procedures
Knowledge of first responder/EMT procedures
Available to work an average of 30 hours per week, especially during the summer months
Minimum three-year commitment (longer is preferred)