UW–Madison's Emergency Alert System
WiscAlerts — UW–Madison's emergency notification system — are designed to provide information about an immediate, actively occurring, and confirmed emergency situation on campus (or an actively occurring threat that's heading towards campus) that requires the community to take immediate action in order to stay safe.
Want to learn more about Off-Campus Emergency Alerts? Click here.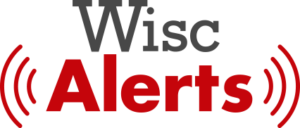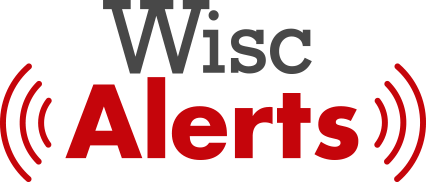 The philosophy behind WiscAlerts is to send a consistent set of messages across all platforms in an effort to reach as many members of the campus community as possible, in as short an amount of time as possible.
Depending on the exact nature of the situation, the system may utilize one or many of the components described below:
Text messaging: UWPD will text subscribers in order to reach mobile users who may be away from their computers or offices. UW-Madison students are automatically enrolled in the text alert system, however, faculty and staff must opt-in using the WiscAlert portal. Registration is simple and takes just a few moments.
E-mail: WiscMail users will receive a mass e-mail warning message. All wisc.edu email addresses automatically recieve WiscAlerts and it's not necessary to register. You may not opt-out of email alerts.
Phone: Campus landline phone users may receive a call with a recorded message providing information.
In most cases, more information will immediately be provided at www.wisc.edu.
WiscAlert Text Messaging
Anyone can sign up to receive text messages in the event of an emergency. Signing up is simple and takes just a few moments.
UW–Madison students are automatically opted-in to receive WiscAlerts texts. When you visit the WiscAlert portal, you also have the option to add a second cell phone number to receive emergency alerts (for a parent, family member, etc.).
UW–Madison faculty and staff must enroll online in order to receive WiscAlerts text — unlike students, they are not automatically opted-in. The WiscAlert system allows each user to add two cell phone numbers in the system — any secondary cell phone number can be added (for a parent, spouse, etc.).
Community members/parents: to enroll via text, just text UWALERT to 77295. This will enroll you for six months, and the system will text to remind you about it when that six-month period has expired.

Once you have registered your 10-digit mobile phone number, you will receive a confirmation text message indicating you have successfully subscribed. If you do not receive a confirmation text message, double-check to ensure you have submitted a number that receives text messages.

Message and data rates may apply. Text messages are sent on an as-needed basis. This service is provided per the Terms of Use and Privacy Policy. Text STOP to the shortcode to cancel.
All WiscAlerts messages will arrive from the shortcode 67283, 226787, 78015, or 77295 and will start with "WiscAlert."
Keep in mind that the service is offered on a best-effort basis. Cellular technology is still evolving, and there are many factors that could prevent a message from reaching your phone.
To enroll or for more information about this service, visit My UW–Madison or the DoIT KnowledgeBase.