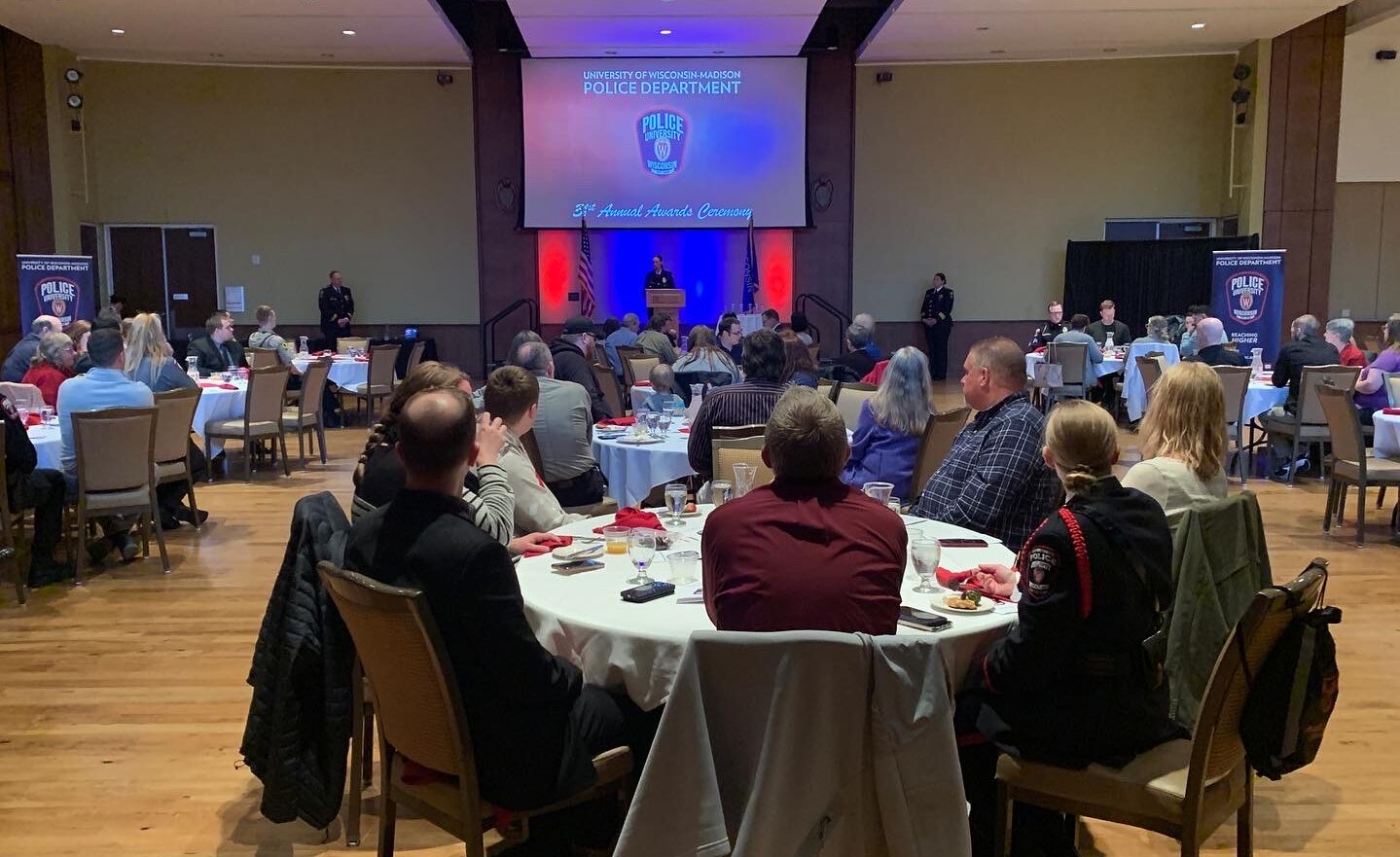 On April 13, 2022 — in our first in-person ceremony in two years — 45 members of the UW-Madison Police Department, the UW-Madison campus, and the general public were presented with awards for their extraordinary service to the UW-Madison community. These awards are for efforts and/or actions in 2021 with an emphasis on public safety.
The awards ceremony was UWPD's 31st annual event — the event was held virtually for the last two years due to the ongoing COVID-19 pandemic.
A complete list of 2021 award winners is below — congratulations to all, and thank you for your continued hard work to keep UW-Madison a safe, enjoyable place for all.
Excellent Service Commendation – awarded to department members for excellent service above and beyond the norm in the performance of everyday duties; or for exhibiting a high standard of job performance in a single incident, investigation, or exceptional arrest; or for training others with dedication and concern in an effort to improve the Department's operations; or for submitting for consideration a device or method that is adopted to increase efficiency in an administrative or tactical procedure.
Lt. Juan Avila
PO Heather Banuelos
Tracey Berman
LED Morgan Blaser (x3)
Lt. Adam Boardman (x2)
LED Charles Cedarquist
PO Jolene Eck
PO Katelyn Gamache (x3)
SO Logan Garcia
PO Kenan Goyette
Det. Peter Grimyser
PO Diego Lema Hernandez
PO Jeff Kirchman
PO Adam Koss
PO Jenson Lee (x2)
Sgt. Jake Lepper
Mandi Meier
PO Vinson Mulvey
Sgt. Josh Nash
Det. Andy Nielsen
LED Megan O'Kane
SO Megan Owen
Det. Sgt. Cheryl Radzinski (x2)
Det. Matt Schirmacher
PO Matt Shaw (x2)
Capt. Mark Silbernagel
SO Lori Spengler
PO Jake Tincher
SS Bill Vanderbloemen
---
Lifesaving Award – presented to department members who knowingly and directly act to save a life or lives.
PO Jolene Eck
Jill Schleis
Anthony DeVito
Paul Wittkamp
Sean Geib
PO Diego Lema Hernandez (x2)
PO Kenan Goyette
PO Vinson Mulvey
PO Ryan Bridges
PO Derek Austin
---
Chief's Award– presented to a member or members of the community who have assisted a member of the department or have performed commendable acts such as lifesaving.
Garrett Duff
Marquis Kirksey
Victor McDaniel
PO John Parker and K9 Drago
Craig Reed
---
Problem Solving Award — awarded to department members who have been determined to find solutions to a problem, through commitment, initiative, creativity, and fortitude. They utilized the problem-solving approach to identify a problem(s) that have negatively impacted the UW-Madison campus and surrounding areas. Through their resolve they have effectively managed to change the course of the issue and continue to monitor its successes and failures, to ensure the identified problem does not continue.
SO Reece Lehman
SO Mikayla Sandin
---
Community Service Award — awarded to department members for community service above and beyond the norm in the performance of everyday duties; or for being instrumental in developing and implementing a new program of crime prevention, community service, or other activity to enhance public safety on campus; or for maintaining sustained and consistently exceptional community relations.
Ed Lawson & Scout
PO Sam Vollrath
Sgt. Nicole Zautner
---
Professional Service Award – awarded to non-sworn department members for outstanding contributions to law enforcement, the department, and/or the community through a project, program, or event which contributes to the highest degree of professional excellence. The employee's actions during the service were above and beyond regular, expected work, and/or the service required considerable devotion of time to complete.
Tracey Berman
Cindy Blankenship
Mandi Meier
Jessica Rodin
---
Reaching HIGHER Pillars of Excellence
Honor: Sgt. Cheryl Radzinski
Integrity: PO Matt Shaw
Guardianship: PO Justin Zurbuchen
Health: Capt. Mark Silbernagel
Empathy: Sgt. Jake Lepper
Respect: Julie Dahmen