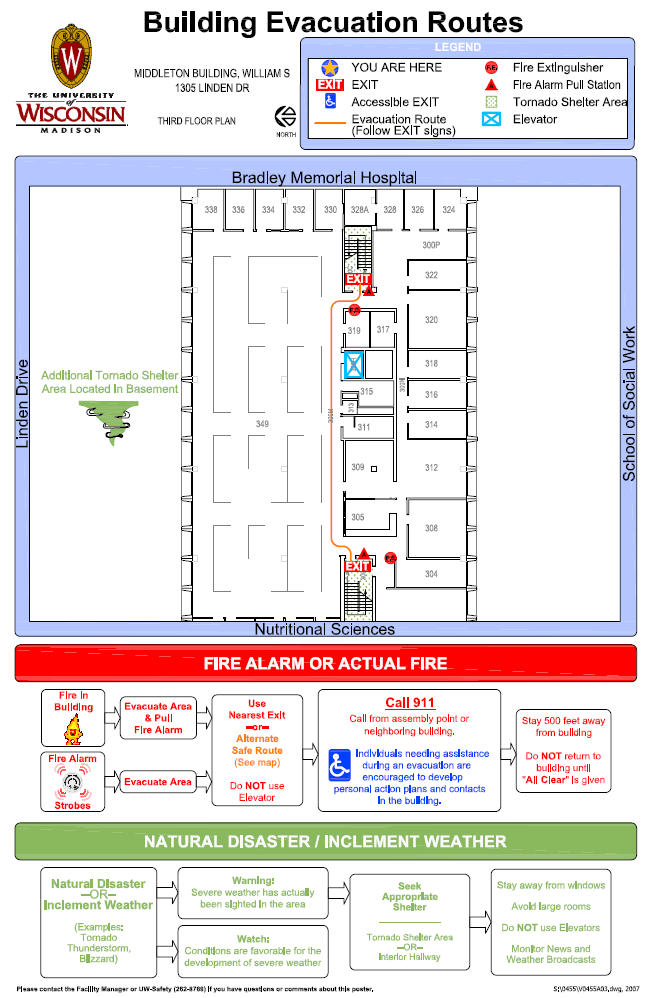 You see the maps every day, but how often have you stopped and taken a look? Many of us spend hours in the libraries, classrooms, or in our offices and very few of us know the safest evacuation routes for the building. Environment, Health & Safety has worked diligently on placing evacuation maps in all campus buildings. The map designates the safest place to go during a tornado or the best route for evacuation during a fire.
The maps also give directions on what to do during a fire alarm, natural disaster, or inclement weather. A few simple steps you can take to stay safe on campus.
Beyond the basic maps and emergency procedures, each building on campus is required to have an Occupant Emergency Plan (OEP). The OEP is an all-hazards plan designed around a building's unique function and layout. The OEPs cover topics including, but not limited to, tornados, floods, active threats, and gas leaks. Speak with your facility manager to view a copy of your building's OEP.
Please take a few moments and familiarize yourself with the evacuation maps in buildings you frequent. If you have any questions about evacuation maps or the OEPs, please contact the UWPD Emergency Management Unit at em@uwpd.wisc.edu or Environment, Health & Safety at EHSWebAdmin@fpm.wisc.edu.