The 38th annual Crazylegs Classic is just days away — thousands will pack downtown Madison to either participate in the run/walk or cheer for those participating.
The route has changed a bit this year — the start of the race has moved OFF the Capitol Square to Library Mall/Lake Street. Runners will stage on Library Mall, run up State Street to Gilman, turn left on Carroll, turn left on Langdon, and then resume the normal route.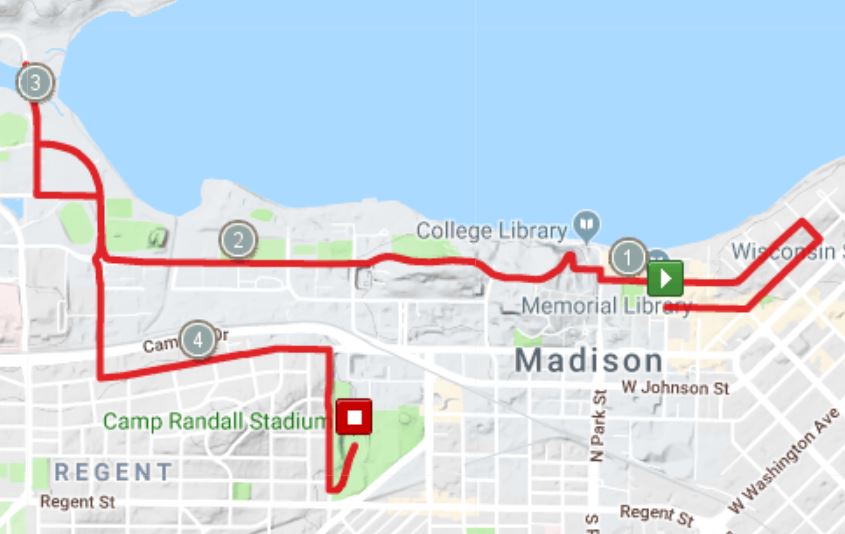 The walkers begin at 9:50 a.m. and the running heats will start at 10:10 a.m. The race finishes at Camp Randall Stadium. Breese Terrace will be closed during the event (except for neighborhood traffic).  Several streets in downtown Madison and on campus will be closed or restricted to one lane at 9:30 a.m. and will reopen at noon. The streets impacted/closed are:
Gilman Street – from State Street to Carroll Street
Caroll Street – from Gilman Street to Langdon Street
Langdon Street – From Carroll Street to North Park Street
North Park Street – from Langton Street to Observatory Drive
Observatory Drive – from North Park Street to Walnut Street
Walnut Street – from Willow Drive to University Bay Drive
University Bay Drive – from Walnut Street to the entrance of Picnic Point
Willow Drive  – from University Bay Drive to Marsh Drive
Marsh Drive – from University Bay Drive to Willow Drive
Walnut Street – from Marsh Drive to University Avenue
University Ave – from Walnut Street to Breese Terrace
There will be police officers at all of the UW campus affected intersections who can assist motorists with directions and detours.  For complete run and walk course maps, click here.
As a reminder, carry-in restrictions are in place at Camp Randall Stadium:
No bags larger than 8.5″ x 11″
No strollers
No food and beverages
No coolers/containers
No umbrellas
No banners, flags, and signs
No noisemakers
No weapons
No inflatables
No items deemed dangerous or inappropriate
We're expecting upwards of 20,000 participants and spectators in and around the campus area on Saturday. Please give yourself plenty of time if you'll be traveling in downtown Madison, and please take extra caution with the increased pedestrian traffic.