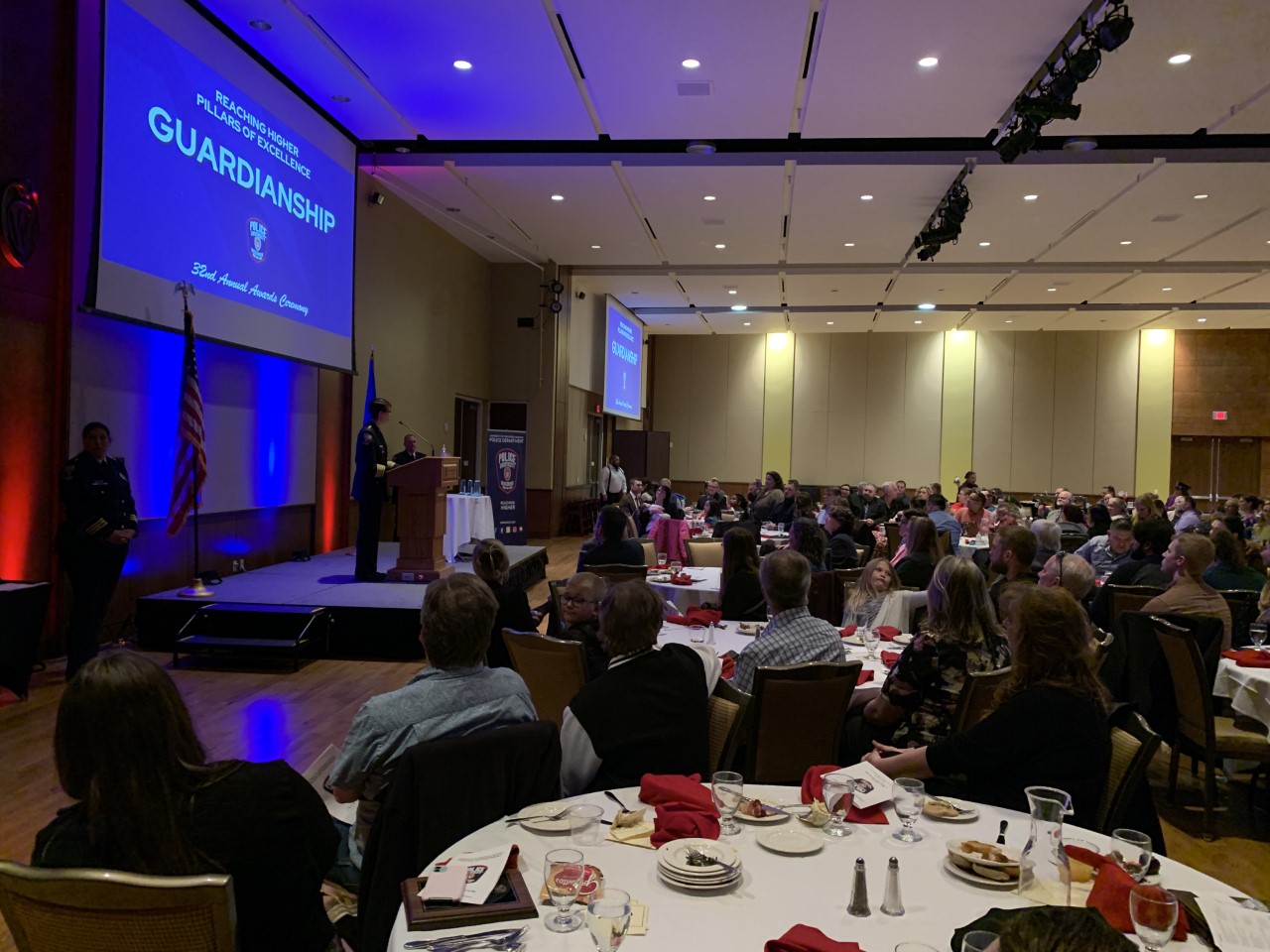 On April 5, 2023, 79 members of the UW-Madison Police Department, the UW-Madison campus, and the general public were presented with awards for their extraordinary service to the UW-Madison community. These awards are for efforts and/or actions in 2022 with an emphasis on public safety. The awards ceremony was UWPD's 32nd annual event.
A complete list of 2022 award winners is below — congratulations to all, and thank you for your continued hard work to keep UW-Madison a safe, enjoyable place for all.
Excellent Service Commendation – awarded to department members for excellent service above and beyond the norm in the performance of everyday duties; or for exhibiting a high standard of job performance in a single incident, investigation, or exceptional arrest; or for training others with dedication and concern in an effort to improve the Department's operations; or for submitting for consideration a device or method that is adopted to increase efficiency in an administrative or tactical procedure.
Interim Sgt. Derek Austin
Lt. Juan Avila (x2)
Det. Heather Banuelos (x2)
Lt. Adam Boardman (x2)
PO Brian Bond
PO Ryan Bridges
LED Kim Brunner (x2)
Sgt. Amanda Buckley
Sgt. Dan Burgoni
Capt. Cherise Caradine (x2)
LED Charles Cederquist
PO Ryan Conybear
Julie Dahmen
Ret. Det. John Deering
PO Jolene Eck
PO Barrett Erwin
PO Eric Grudzinski
Kendra Hendricks (x2)
Lt. Ryan Jesberger
PO Corey Johnson
PO Derek Johnson
PO Justin Jones
PO Jeff Kirchman
SS Evangelos Kostas
SO Reece Lehman
Sgt. Jake Lepper (x3)
Lt. Beth Lopez
Elisa Lopez
PO Vinson Mulvey (x2)
PO Adam Prescott
LED Emily Salvador-Cabrera
PO Ian Shaw (x3)
Det. Matt Shaw (x2)
Lt. Carl Siddell
PO Megan Staab
Det. Kyle Van Haren
SS William Vanerbloemen
Capt. Jason Whitney
Kelly Willan
Sgt. Nicole Zautner
PO Justin Zurbuchen (x2)
---
Lifesaving Award – presented to department members who knowingly and directly act to save a life or lives.
Interim Sgt. Derek Austin
PO Ryan Bridges
PO Loni Broesch
LED Charles Cederquist
PO Jeff Kirchman
PO Adam Koss
PO Jake Tincher
PO Justin Zurbuchen
---
Chief's Award– presented to a member or members of the community who have assisted a member of the department or have performed commendable acts such as lifesaving.
Shane Burgess
City of Madison Police Department
DCI Special Agent Ken Folkers
Dane County Sheriff's Office
Sammie Dyreks
Scott Eikland
Nick Hellrood
Megan Huber
Michael Imhoff
Dustin Jollife
Amy Letavay
Josie Montanez-Tyler
Sarah Nolan
Will Singer
Jeremy Skoug
Corey Steele
Alison Stuebe
Town of Madison PD
Wisconsin DOJ – DCI
Wisconsin State Crime Lab
---
Community Service Award — awarded to department members for community service above and beyond the norm in the performance of everyday duties; or for being instrumental in developing and implementing a new program of crime prevention, community service, or other activity to enhance public safety on campus; or for maintaining sustained and consistently exceptional community relations.
Det. Heather Banuelos
Clark Brunner
LED Charles Cederquist
PO Barret Erwin
Lt. Beth Lopez (x2)
Lt. John McCaughtry
Ret. Det. Sgt. Cheryl Radzinski
Lt. Carl Siddell
---
Professional Service Award – awarded to department members for outstanding service above and beyond the call of duty, for highly creditable acts serving the community, for major protection of property, for consistently demonstrating highly professional performance over an extended period of time, or for demonstrating uncommon perseverance in an ongoing investigation.
Tracey Berman
Sebastian Kelnhofer-Maldonado
Petra Matuszka
---
Meritorious Service Commendation– awarded to non-sworn department members for outstanding contributions to law enforcement, the department, and/or the community through a project, program, or event which contributes to the highest degree of professional excellence. The employee's actions during the service were above and beyond regular, expected work, and/or the service required considerable devotion of time to complete.
Capt. Ruth Ewing
Det. Sgt. Peter Grimyser
Det. Andy Nielsen
Ret. Det. Sgt. Cheryl Radzinski
Det. Matt Shaw
Det. Matt Schirmacher
Det. Kyle Van Haren
Capt. Jason Whitney
---
Reaching HIGHER Pillars of Excellence
Honor: SS Bill Vanderbloemen
Integrity: Sgt. Amanda Buckley
Guardianship: Sgt. Nicolas Banuelos & K9 Maya
Health: Capt. Jason Whitney
Empathy: Lt. Adam Boardman
Respect: Petra Matuszka