Bicycle thefts are an unfortunate and ongoing issue on the UW campus and in downtown Madison.  Each year, we take numerous bicycle theft calls.
Bicycles are stolen for of a number of reasons – for starters, they are desirable and portable, which explains why they are targeted by thieves. They can also be easily transported out of state, making identification of stolen bikes extremely difficult.
One of the ways you can prevent your bike from being stolen is to make your bike undesirable. Simply put, have a cheap bike and an expensive lock. Also, don't leave expensive accessories (lights and bike computers) on the bike while it's left unattended – bike thieves target these items, too.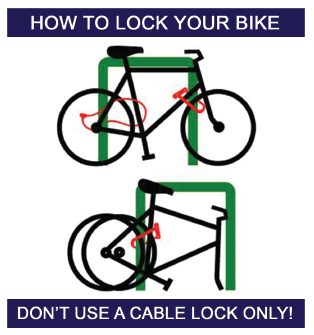 The most important method of preventing bicycle thefts is to properly LOCK your bicycle.  Proper locking involves securing your bicycle frame to a solid fixed object — not a tree, wooden fence, or another bicycle (yes, this also means parking meters — they might appear solid, but the bike and lock can usually be lifted straight up). The other aspect of proper locking is the lock itself. DO NOT use inexpensive cable locks. These can be cut rather easily and do not deter the thieves. Use a solid "U style" lock, like the ones made popular by the Kryptonite brand. If you wish to supplement this with a chain or cable lock, please use this to secure the front and/or rear tire to the fixed object as well.  Proper locking is especially important with the prevalence of e-bikes. E-bikes are usually much more expensive and much more desirable to thieves.
In addition to properly locking your bike, be sure to document the serial number and take a photo of you bike. It won't prevent it from being stolen, but without the serial number, the odds of recovering your bike are very slim.
The UW-Madison Police Department takes this problem very seriously. We have incorporated innovative strategies to help us catch bike thieves throughout the years, and our campus camera system often allows us get images of the culprits. We hope by following these bike security tips, you can enjoy your college experience without losing your two-wheel steed. However, if you ever need to report a problem to UWPD, please contact our dispatch, 24 hours a day, seven days a week at 608-262-2957.
If you have bicycle safety or security questions, reach out to Officer Erik Pearce at erik.pearce@wisc.edu or (608) 262-0846.